Best Forex Trading Platforms in Nigeria 2023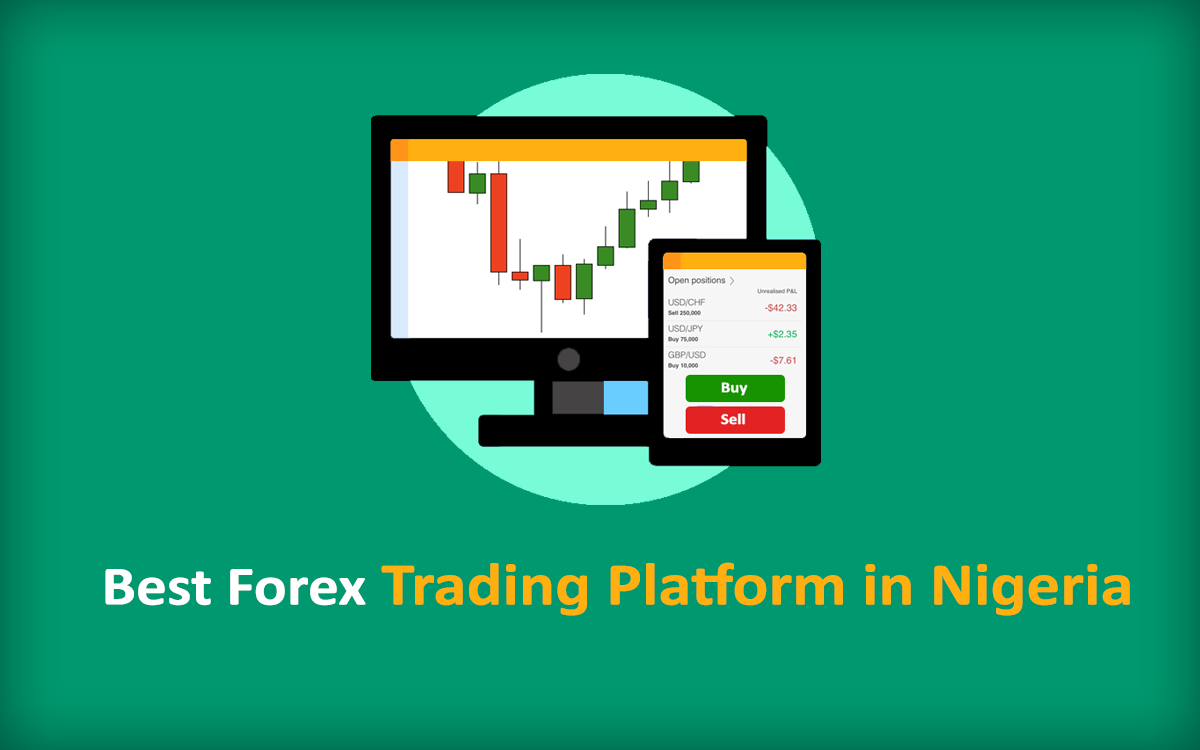 For Nigerian traders, besides fees or other charges, trading platform remains the most important consideration while choosing your forex broker. The best forex trading platforms should offer a downloadable desktop, mobile apps or web-based trading platforms.
If you're wondering how to choose the best forex trading platform in Nigeria, be sure to look for one with excellent trading capabilities, live data, custom views and flexible charts, to lock in your profits.
Nigerian forex traders need a platform they can rely on, during the trading process.
In order to help you find the best forex trading platform, we have tested all the platforms. Here we go.
6 Best Forex trading platforms in Nigeria for 2023
Best Forex Trading platforms in Nigeria
Here's our detailed list of the brokers that offer the best forex trading platforms in Nigeria. We have compared the ease of use, functionality, trading costs, order execution & more for the last 6 months:
1. FXTM Metatrader: Instant order execution & MT5 platform
Supports:

Metatrader for desktop, web & mobile

Minimum deposit:

₦2000

Max. Leverage:

1:1000

Trading Instruments:

Forex, Cryptocurrencies, CFDs on Shares
Ranks #1 Forex platform in Nigeria
The MT4 and 5 are the FXTM's forex trading platforms. It comes with full support for web, desktops and mobile devices.
MetaTrader software at FXTM is one of the best that we have traded on so far, and offers Nigeria forex traders the most advanced features. For traders, this includes over 250 trading instruments,  fast order execution, trading signals, an extensive range of order types, news feed, data protection and more. FXTM's MT4 & MT5 platforms are available for desktop, iPhone, iPad, Android, and Mac. The MT5 WebTrader platform is also available.
The advanced charting tools for technical analysis include: Fibonacci and Gann tools, channels lines, etc) and nine timeframes. Further, the technical analysis package comprises 30 in-built indicators, 2000+ custom indicators for free and 700 indicators that can be purchased.
Their platform also provides support for various orders including market order, limit orders, stop loss and more. Plus, they have inbuilt news feed in their Metatrader. Moreover, FXTM offers VPS for automated trading.
The FXTM platform also supports copy trading. This is an innovative FXTM program where a forex traders can invest by copying the manager's trades.
Pros
MT4 & MT5 platforms that are available for web, desktop & mobile
Advanced charting tools, indicators, and support for EAs
Fast Order execution with no freezing or downtime
A vast range of trading instruments are available
News feed is available for all traders
Supports multiple order types including limit orders, stop loss etc.
Cons
FXTM's webtrader can only be used for technical analysis as it does not support news updates
Less shares & CFDs available that other platforms
Their spread & trading fees with their Standard accounts is higher than other forex brokers. But the fees with competitive with ECN accounts.
2. Hotforex – Best Metatrader Trading Platform
Supports:

MT4, MT5 for desktop, web & mobile

Minimum deposit:

$5

Max. Leverage:

1:1000

Trading Instruments:

Forex, Cryptocurrencies, CFDs on Stock Indices, Commodities, metals
Ranks #2 Forex platform in Nigeria
HotForex's offers newest Metatrader 5 & MT4 platforms for Nigerian investors. It has support for mobile, desktop and web. For trading currency pairs, HotForex offers an impressive but risky leverage ratio of 1:1000.
The HotForex's MT5 terminal offers 21 different timeframes, superior analysis tools, trading across HotForex asset classes, close to 100 simultaneous charts, hedging and one-click trading. It offers 80+ technical indicators and an in-built economic calendar.
The value of their platform is being able to access the account from anywhere using your iPhone, interactive charts for 9 timeframes, advanced trading functions, one-click trading, 24 analytical objects, and 30 technical indicators.
Another good points are that Hotforex's Metatrader has fast order execution, news feed, multiple order types, support for EAs.
Pros
Hotforex offers MT4 & MT5 that has desktop, mobile & web-based versions
Lower spread than other forex brokers for most currency pairs
More technical indicators available in their platform
Supports news feeds, and multiple order types
Support copy trading with HF Copy
Cons
We did not find any cons with their platform so far for now. We will update it once we find something new.
3. OctaFX MT4: Quick order execution & low fees
Supports:

MT4, MT5 & cTrader for desktop, web & mobile

Minimum deposit:

$100 (₦36,000)

Max. Leverage:

1:500 (variable based on account type)

Trading Instruments:

28 currency pairs, 3 Cryptocurrencies, CFDs on Indices, metals
Ranks #3 Forex platform in Nigeria
OctaFX offers Metatrader 4 with their Micro account, MT5 platform with their Pro account and cTrader with their ECN account. All their platforms come with multi device support for web, desktop & mobile.
OctaFX is one of the very few forex brokers that offers Metatrader as well as cTrader.
They offer Market execution with all their platforms, and most of the orders with them are executed quickly without any slippage. Plus, they allow scalping & hedging, and Expert Advisors, custom indicators. VPS service is also available with their MT4 platform.
On the downside, their platforms have limited assets available. Their currency pairs are limited to 28, and CFDs are limited to 4 metals, 2 energies, 10 indices, and 3 cryptocurrencies i.e. Bitcoin, Ethereum & Litecoin.
Pros
Besides offering MT4, OctaFX is one of the few brokers that offer cTrader & latest MT5.
Their platforms allows support for hedging, scalping & EAs
Their order execution time is very quick with 97.5% of the orders executed without any slippage
They offer local funding & withdrawals via GT Bank on their platforms
Support for mobile trading (with MT4, MT5, & cTrader), and availability of multiple orders types & upto 21 timeframes with their MT5 platform.
Cons
OctaFX's MT4 platform has limit assets. Only 28 currency pairs, CFDs on 2 metals, 4 indices & 3 cryptos.
Although they offer local funding & withdrawals in NGN, but Naira accounts are not available currently. You can open trading account in USD or EUR currency only.
4. XM – Best Forex Trading App for fast order execution
Supports:

MT4, MT5 for desktop, web & mobile

Minimum deposit:

$5

Max. Leverage:

1:888

Trading Instruments:

Forex, 1000+ CFDs on Stocks, Indices, Commodities, metals
Ranks #4 Forex platform in Nigeria
XM offers Metatrader trading app, desktop app & web application as well. XM is one of the most reputed low cost forex trading platform that is regulated with ASIC & CySEC.
5. Tickmill MT4: NDD platform with very competitive spread
Supports:

Metatrader for desktop, web & mobile

Minimum deposit:

$100 (~₦36,000)

Max. Leverage:

1:500

Trading Instruments:

Forex, CFDs on Stock Indices, precious metals
Ranked #5 Forex platform in Nigeria
Tickmill offers Metatrader4 & Webtrader platform with their Classic & Pro accounts. But they don't offer the latest MT5 platform. Their MT4 platform comes with support for all devices including desktop, web & mobile.
Tickmill has a 100% NDD forex platform, which means that there is no conflict on interest with their clients. Their MT4 has full support for EA's, multiple charts, news, limit orders & more. They offer market execution, and we have found their order execution to be very fast with no delays.
Moreover, their MT4 is supported on Windows, Mac, Android, iOS, as well as webtrader. Their platform has 62 currency pairs which is more than other platforms, but their other instruments are limited. They only offer 15 stock indices, and 2 metals other than forex trading.
Pros
Metatrader 4 for multiple devices including web, desktop, and mobile.
Tickmill has No dealing desk platform, so their is no conflict of interest with their clients, and orders are placed directly with their liquidity providers.
Very competitive spread for most currency pairs & quick order execution speed.
Their platform supports mutiple charts, order types, and EAs for automated trading.
Forex trading available on 62 currency pairs.
Cons
They don't offer the latest MT5 trading platform.
Very few trading instruments other than forex. Their CFD trading options for stock indices, and metals are limited.
6. Alpari ECN MT5: Low spread
Supports:

MT4 & MT5 with multi device support

Minimum deposit:

₦0

Max. Leverage:

1:1000

Trading Instruments:

46 Forex pairs, Cryptocurrency, CFDs on Indices
Ranks #6 Forex platform in Nigeria
Alpari offers Metatrader platforms MT4 & MT5, and they also offer their proprietary mobile trading app for Android & iOS. Also, they have Alpari invest app for investors & PAMM account holders.
Alpari has the latest MT5 software for Nigerian traders, and it has solid features without an freezing or downtime. They offer instant order execution with Nano, Standard accounts, and market execution with their ECN accounts.
Their Metatrader comes with multiple timeframes, order types and many technical indicators for technical analysis. Plus, they have an inbuilt news feed to keep track of any news during your trade.
They also have a PAMM account for investors, and an app where you can keep track.
Pros
MT4 & latest MT5 platforms with support on all 3 devices. They also have their own mobile app.
Instant Order execution with their Nano & Standard account. And very low spread for most currency pairs.
46 currency pairs available with their MT5 ECN account, and 18 CFDs.
News feed & education section is available
Supports limit & stop loss orders.
Alpari has their own app for PAMM account investors.
Cons
Less currency pair options with their Nano & Standard metatrader accounts.
read our detailed Alpari review to see why we ranked them #6 in platforms.
How to choose best Forex trading platforms in Nigeria?
Forex trading platforms can vary across a wide array, offering distinct functionalities and features. To find the best fit, asking the right questions is important.
If you are a new trader, you would require user-friendly, simple platforms without many indicators or complex order capabilities that could confuse you. Professional or advanced traders could need more advanced indicators on charts and tools, including EAs and code add-ons directly implemented into the platform.
Nigerian forex traders should only choose a platform that is most fit for their trading strategy. Good forex trading platforms simplify research and analysis, making it easy to use even the advanced charting tools, and EAs.
Your trading skills & your strategy should be the factor to determine which platform you should be choosing. In general, be sure to look for one with excellent trading capabilities, live data without any delays, flexible charting tools, EAs and quick order execution.
All forex brokers offer their trading platforms for free to its demo & live customers, and it can be downloaded from the broker's website.
Here are the tips that you should consider while choosing the forex trading platform:
1. Mobile, desktop & Web Support
Some brokers only permit trading through a web-based interface, or only mobile without any desktop interface.
Choose a broker that offers trading platforms compatible across devices, like mobile and tablet, and also desktop, so you can trade on the go or remotely with ease.
You may suddenly need to open or close your orders, even when you are not in-front of your trading screen, so a broker that offers platform with mobile interface would allow you to do just that. You will be able to trade easily & conveniently.
As an example, HotForex does offer their platform on multiple devices. You can trade on their platform on the web, or via your mobile phone. You can also download their MetaTrader platform on your desktop.
Check the website of the broker, and find out the platforms that they offer. Generally, the brokers will list their platforms on their website, and you can scroll to the menu section to find out. Like this example screenshot from FXTM's website below.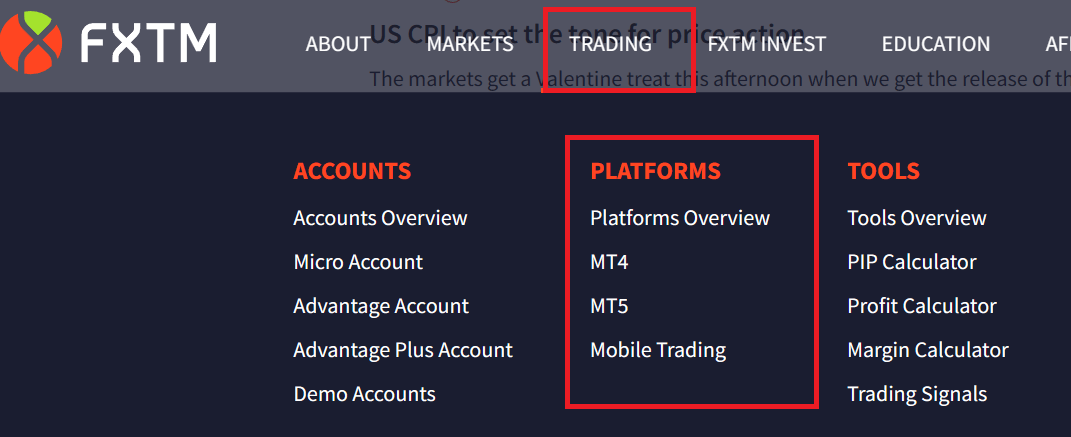 You will notice in the screenshot above, that they offer MT4, MT5, and their own mobile trading app. This is considered good, because they offer trading on all devices.
If you prefer to trade via a mobile device, then you should register with forex brokers that offer trading apps on iOS & Android. Check for their reviews, and rating by users on App store.
2. Support for Multiple Order Types
A good platform will offer you the ability to place multi order types. The most common orders that you may need to place in the market are Market orders, Limit Entry orders, Stop Entry orders, Stop Loss orders, Trailing Stop, One-Triggers-the-Other and many more.
For advanced traders, availability of multiple order types should be a very important requirements. And beginner traders would also need to place limit orders & stop loss.
So it is even more important for traders to only go for a platform that allows placing all various different types of orders. So ask your broker first, what types of orders do they support in their platform & then decide.
3. Fast Order Execution without delays or Re-quotes
The trading platform should also have be quick to load, place orders, close orders & perform any action when required without freezing or hanging.
Orders should be placed quickly and the trading platform should have a good past record for managing re-quotes with minimal downtime.
Any delay in your order execution can be a difference between a profitable trade or a loss. Search whether your platform has instant/fast order execution or not.
In our research, Forextime offers market execution & XM forex claims no rejection policy with guaranteed execution, and both performed the best in terms of order execution without delays.
4. Technical Tools available in the platform
Does your trading platform offer wide charting tools like trendlines, moving averages, EAs, ability to add technical indicators, and more?
A good trading platform should offer easy access to many technical tools for analyzing the financial instruments and markets.
The platform should also have a multitude of features and functionalities, ranging across browsing charts simultaneously, changing chart types, scheduling and automatic transaction execution, analysis tools and news updates. Notifications, alerts, analytical objects, technical indicators, and charting tools should be up to the mark.
So look for a platform that has wide tools for technical analysis.
5. News Feed & Educational Updates in platform
Even if you are not to fundamental trader, you still cannot ignore the news. What if you are placing your order without being aware of an upcoming news that could affect your trade & increase market volatility that could cause your stop loss to hit.
For this reason, news and educational updates on the platform can offer valuable market intelligence for all traders. Advanced and intermediate traders can benefit from news updates which offer actionable insights before placing any trade.
Moreover, updates on training and free video tutorials in a platform, FAQs and multilingual support are good bonus for beginner traders. These offer a good opportunity to get well acquainted with trading tools and build your expertise or further hone your trading skills.
6. Is the spread low?
The spread & trading fees offered by the broker on their platform is absolutely vital consideration.
On each trade executed, you will be charged a fixed or a variable spread by the broker. This is the broker's fees, which is the difference between buying and selling price of assets before profits can be settled.
You should choose a platform with a broker that offers the lowest spread for the currency pairs & instruments that you are looking to trade. Moreover, be sure to check out if there are any commissions and hidden charges for using the platform.
Although platforms at most brokers are free, some brokers may even charge extra fees for using their platform, and they may also charge extra fees during inactivity. So make sure to properly check out the broker's fees for using the platform before choosing it.
7. Is the Broker's Platform Regulated?
This is a really important consideration if you are a trader based in Nigeria. This is because there are no local regulations for online forex trading in Nigeria, and all the platforms are of foreign forex brokers.
There are many illegal forex brokers as well that operate in Nigeria. By illegal, we mean that these platforms are not genuine, and are really a scam. Generally, these platforms are not regulated by any Top-tier regulation.
As a basic consideration, you should only trust trading platforms that have a license from atleast 1 major regulator. Having licenses issued by multiple top-tier regulators like FCA, ASIC, CySEC etc. is a sign of trust, that your funds will be safe with that broker.
But most of the forex brokers that target unsuspecting users in Nigeria are offshore brokers, and don't have any license at all with any major regulator. That is why, traders in Nigeria should put more consideration to this factor while signing up with any platform, as this could save you from losing you deposited capital (fake forex platforms can run away with your money).
Conclusion
The trading platform is one of the most important considerations you need to take into account while searching for the right FX broker in Nigeria.
The platform should have an easily usable with symbols like currencies and analysis on different time frames. Technical indicators should be readily accessible.
Exceptional forex trading platforms should have accurate forex quotes and reliable trade execution. good order placement, management of accounts, technical and fundamental analysis tools, strong data security and minimize system downtime.
Among the popular trading platforms are MetaTrader 4 and 5. These are versatile, popular trading platforms in the currency market. These platforms offer easy charting tools and quick placement of multiple orders, analysis across time frames and technical indicators for popular currency pairs.
The MT4 and MT5 platforms offer automated trading and social/copy trading features as well. So it is best to choose a broker that offers Metatrader platforms.
Comparison Table of best forex trading platforms in Nigeria
| Forex Broker | Forex Trading Platform(s) | Supports | Leverage | Account minimum | Trading Platform(s) | Start Trading |
| --- | --- | --- | --- | --- | --- | --- |
| FXTM | MT4, MT5, Webtrader | Desktop, web & mobile | 1:1000 | ₦2000 | 50+ Forex, Cryptocurrencies, Metals, Share CFDs | get started |
| Hotforex | MT4, MT5 | Desktop, web & mobile | 1:1000 | $5 | Forex, Cryptocurrencies, Metals, Shares | get started |
| OctaFX | MT4 (with Micro account), MT5 (Pro account) & cTrader (ECN account) | Desktop, web & mobile | 1:500 (variable) | $100 (₦36,000) | 28 currency pairs, 3 Cryptos, CFDs on 4 metals, 10 indices | get started |
| XM | MT4, MT5 | Desktop, web & mobile | 1:888 | $5 | Forex, CFDs on Metals, Shares | get started |
| Tickmill | MT4 | Mobile, web, desktop | 1:500 | $100 | 62 currency pairs, CFDs on 2 metals, 15 indices | get started |
| Alpari | MT4, MT5 & Alpari Invest App | Desktop, web & mobile | 1:1000 | ₦0 | 46 Forex currency pairs, Cryptocurrencies, CFDs on metals, indices | get started |
Frequently asked questions
Which is the Best Platform for Forex Trading in Nigeria?
What Forex Trading Platform is good for Beginners?
Beginners should consider platform of a broker that is regulated with one or more Top-tier regulations. This makes it a safe platform for traders, and you can be assured that your trading funds are protected. The the trading platforms in our list are considered low to moderate risk brokers.
Can I start Forex Trading with $10?
Although there are forex brokers that accept as low as $5 deposit like HotForex, it is advised to not trade with very low capital. Trading with low capital would normally mean that you decide to use very high leverage, and put much of your money at risk. You should trade with enough capital so you don't have to use more than 1:30 leverage on Forex.