Best No Deposit Bonus Forex Brokers 2023
Forex Trading can offer opportunity to make good income if you have enough trading experience. But there is an obligation to deposit funds in your trading account with the broker, before you can start trading live.
But this is not the case with no deposit bonus offered by brokers!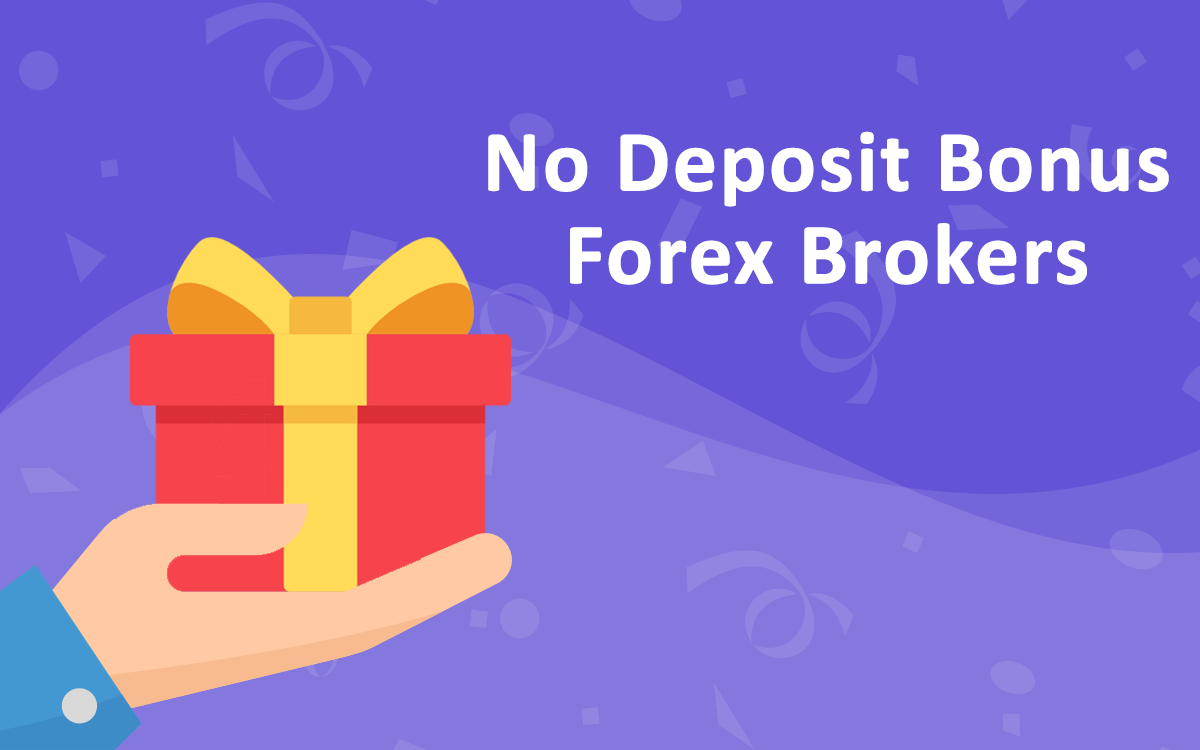 Usually you may be unable to start because of limited funds, or you may want to test out your strategy on live before trading with actual money. The no deposit bonus can help in this case.
The No deposit bonus is a promotion by Forex Brokers where they offer free starting capital into the forex trader's account, without any initial deposit.
But you still must be cautious in choosing a broker that offers no deposit bonus or any similar promos. We have done the research on the brokers that are currently offering bonus to traders from Nigeria.
Best No Deposit Bonus Forex Brokers in Nigeria in 2023
There are a few forex brokers that offer Sign Up Bonus without any deposit.
5 Best No Deposit Bonus Forex Brokers
We looked into all the brokers that offer No deposit bonus to Nigerian traders, and then we hand-picked the few popular ones.
Let's start by comparing the bonus & the terms to avail the bonus for 4 brokers in our list!
1) $30 Bonus by XM:
Bonus Amount:

$30

Verification Required:

Yes

Leverage:

1:888
XM is in our Recommended Forex Broker list
Globally acclaimed XM is a broker regulated by CySEC, FCA, IFSC, ASIC among others. It's a global trading platform that offers a US $30 no deposit bonus to first-time clients who open a real trading account.
How to Avail $30 XM Forex Bonus:
1) Open Trading Account: To avail this bonus, traders must open a real trading account with XM. You can easily open it from here.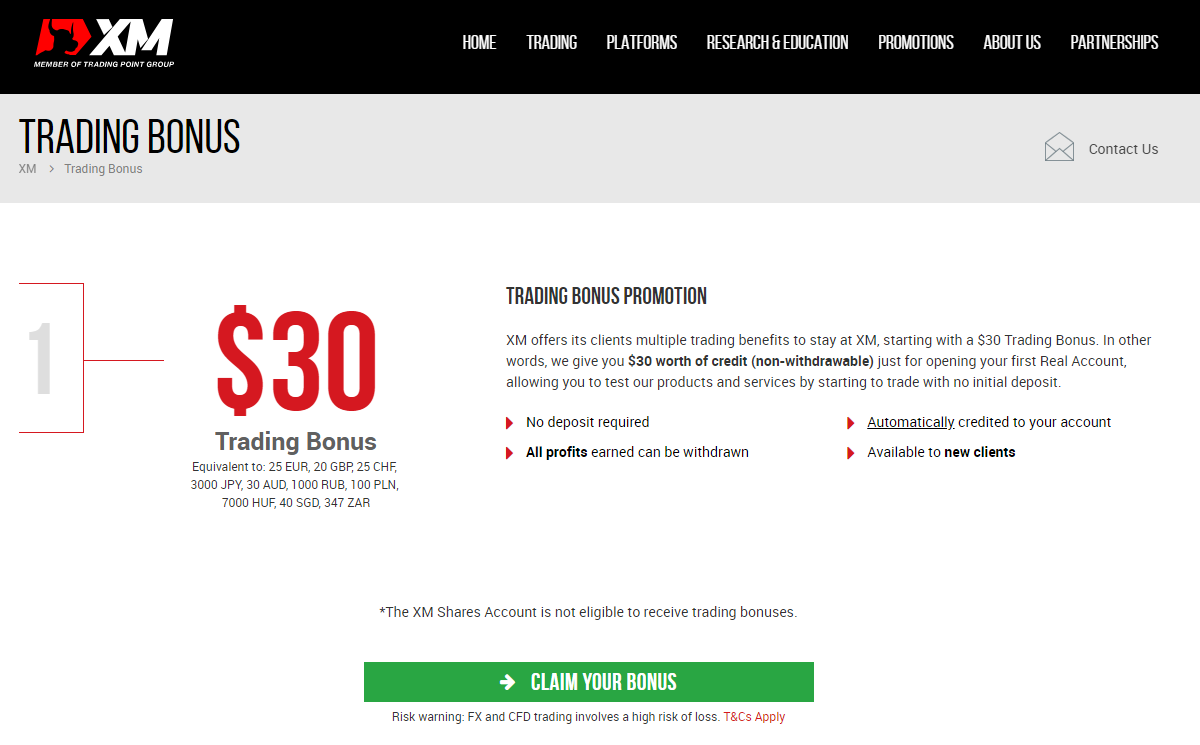 2) Verify Account: Log in to the member's area to validate the credentials sent via email. Then, traders must provide documentation for identification and account validation. SMS phone verification must then be carried out.
3) Credit Bonus: Following this, the bonus is credited to the live account, ready for trading. The bonus is only available till you lose it or withdraw profits from the account.Post email and SMS confirmation, the user can confirm the transaction and log into the system.
An MT4 ID is assigned as a username while logging into the platform.
Bonus Terms and Conditions at XM FOrex
Bonuses cannot be withdrawn.
The bonus account can only be opened by new XM clients.
Profits generated can be proportionally withdrawn as per provisions of XM any time.
Bonuses cannot be activated for more than a single XM trading account.
If the trading account is not active, the bonus is removed.
Trading bonuses are not available for EU and UK clients, as the CYSEC and FCA regulated broker cannot offer this for traders from these countries. Clients registered under Trading Point of Financial Instruments UK Limited and Trading Point of Financial Instruments Limited cannot avail this bonus offer, therefore. Additionally, the bonus can be availed only once per IP address or household.
The bonus is available within a 30 day period of signing up with XM only.
XM permits trading activities of all kinds except arbitrage.
2) $100 Bonus by FBS:
Bonus Amount:

$100

Verification Required:

Yes

Leverage:

1:1000
Not listed in our best forex brokers list
FBS is a CySEC and IFSC regulated broker that offers the highest bonus. It is currently running multiple bonus offers, each with different amounts and rules. One of their most popular no deposit bonus offers is the Trade 100 bonus, where you can get $100 of free funding.
How to avail $100 Bonus at FBS?
To get the US $100 bonus, take the following steps:
1) Register: The first step is to register and open a bonus account.
2) Verify your account & get Credited: You need to verify your account with FBS. Once your account is verified, your account will be credited automatically with the bonus fund.
3) Start Trading: You must use the MT5 account for placing trades for 30 days. And you must fulfil the conditions set by FBS before you can withdraw any profits made with the bonus.
Bonus terms at FBS:
You cannot withdraw the bonus, but you can withdraw the profits that you make, once the conditions are met.
Maximum leverage that you can use during trading with the bonus is 1: 500.
Further, the bonus can only be claimed once by new traders only.
Profit generated from trading with the bonus funds can only be withdrawn after 5 lots are traded, and $100 in profits or more are reached.
Bonus is cancelled once the first withdrawal is made.
3) $500 Bonus by InstaForex
Bonus Amount:

$500

Verification Required:

No

Leverage:

1:1000
Not listed in our best forex brokers list
InstaForex is another broker that offers no deposit bonus. Their promotional bonus is called the Start Up. They don't require any verification to avail the bonus, but you have to make an initial deposit before you can withdraw the profits.
Note: InstaForex is not in our recommended Forex broker list for 2019, hence we don't recommend them. If you are choosing to avail their No deposit bonus, please do so at your own risk.
How to avail $500 Bonus at Instaforex?
1) Open a Trading account: To avail the benefit of signup bonus you need to open a trading account at InstaForex.
2) Verify account & get bonus: The bonus can then be claimed after verifying your account.
Bonus terms at Instaforex:
The new deposit bonus is available to new clients only.
You don't have to offer documents for account verification to receive the Startup Bonus.
You can only withdraw the profit only once you deposit funds to your account. You have to deposit $50 to withdraw the bonus.
The bonus profits available for withdrawal cannot exceed US $50.
The bonus does not extend to InstaForex cent accounts.
4) $10 Bonus by FXOpen
Bonus Amount:

$10

Verification Required:

Yes

Leverage:

1:500
Not listed in our best forex brokers list
FXOpen is a regulated forex broker. They have been offering $10 signup bonus with theit STP account for some time now & it is available to Nigerian traders as well.
How to get the $10 Bonus at FXOpen
1) Open the STP account: The first step is to open the STP account at FXOpen.
2) Verify your account: The next step is to verify the account via SMS.
3) Get Bonus: Following this, the bonus is automatically credited to the STP account. For availing this bonus, you must register an FXOpen eWallet.
The bonus will be automatically added to the first STP account new traders open.
FXOpen Bonus Terms:
FXOpen offers the US $10 no deposit bonus for STP forex trading accounts.
While the bonus is received for free without any deposits, the conditions of the promotion must be met.
$10 bonus amount is only for STP account holders to trade. It cannot be withdrawn.
The maximum leverage allowed is 1:500. The bonus is credited directly to the trading account.
Common rules by No deposit Bonus brokers
First you must understand that the bonus is for trading purposes only. It should be used as a way to practice in the live trading environment, and you should not see it as free cash.
Usually, there are some common rules (which you must know) set by all the no deposit bonus forex brokers:
1. You cannot withdraw the bonus but you can withdraw the profits you make while trading with that bonus.
2. You must trade a minimum number of lots for the required period until the broker's terms are met.
3. You cannot claim the bonus in multiple trading accounts.
4. There may be other terms set by the broker, and you should check it out first before choosing any No deposit bonus broker.
How to choose a No Deposit Bonus Forex Broker?
We have prepared this list on few important points that you must consider before claiming bonus with any broker.
When it comes to no deposit bonuses, you need to consider the following factors:
1. Read the terms carefully (don't just skim them)
Just because you not depositing any money to trade, doesn't mean that you should choose any broker that offers bonus. Some brokers will lure you with extravagant bonus offers, but their withdrawal terms are very shady & bad, often requiring you to make deposits before you can withdraw any profits made with the bonus.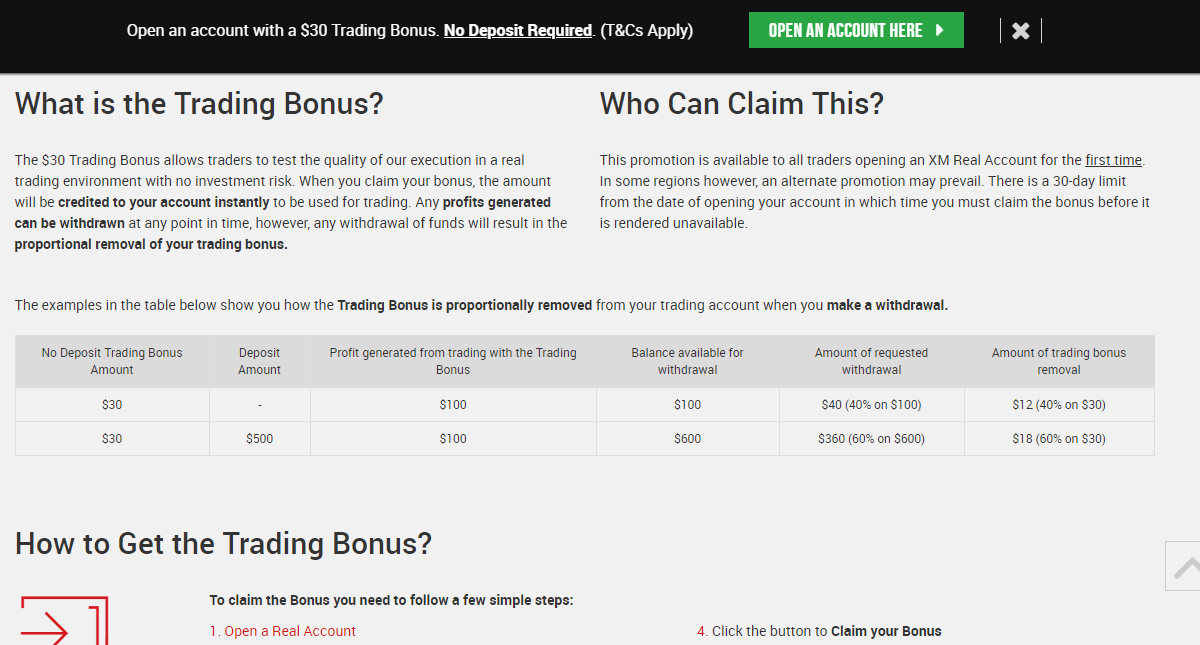 For example: Instaforex requires you to make a deposit before you can withdraw any profits made with the bonus. This is not a favorable term. Even XM requires certain level of trading activity in terms of volume traded before you can withdraw any profits made via trading the bonus.
So make sure to read the terms carefully before choosing any broker for No deposit bonus. If there is something you are unsure about, don't be shy to contact the broker's support.
2. Always Check the broker's Regulations
Unregulated brokers don't have any obligation to commit to terms set by Regulatory bodies, and often use No Deposit bonus as a way to attract new traders and get them to deposit actual money.
Check if the broker has been approved, certified and regulated by the right authority like FCA (UK), CySEC (Cyprus), ASIC (Australia) or FSCA (South Africa).
Without regulation, you cannot back up the legality of the broker or file any complaint against them in case of any bad practice by the broker.
Note: If you are looking for highly regulated & trusted brokers to start trading forex with low deposit, then you can check our list of best forex brokers in Nigeria.
Don't fall for big bonus amount, rather go for trusted platforms that have proven history of reputation over the years, among existing traders.
3. Read the reviews (both good & bad)
Most regulated forex brokers that offer good services in general are likely to offer transparent bonus offers as well. So if a good regulated forex broker is offering a bonus, then it is a no-brainer to go for it.
You should carefully read the reviews of other traders, and also talk to other traders if they have any experience with the broker that you are about to choose, before you choose any broker that offers no deposit bonus.
For Example: XM Forex is a reputed forex broker & it is also the #5 Forex Broker in Nigeria as per our XM Forex reviews by our experts & users. So the no deposit bonus by them is a perfect opportunity to start.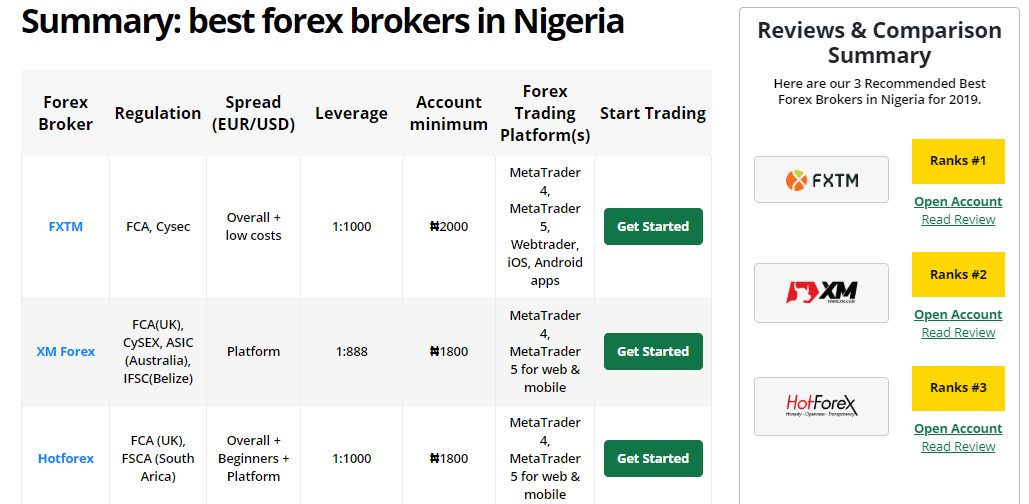 Check out the reviews, website and online reputation of the broker before trusting them, even in case of No deposit bonus. It is your time at stake.
4. Make Informed Decision (Not just choose a broker with bonus)
Don't be tempted by big bonuses, as some brokers that offer deposit bonuses may not be trustworthy or might be unregulated. In such a case, you risk wasting your time & effort.
Instead, base your decision on the broker's reputation, and choose a broker that is regulated with multiple Top-Tier regulators & offers the right trading platforms and services. If a regulated broker is offering a deposit bonus, then you can trust it.
In every case, read the terms and conditions and be clear about the offers and promotions. You must remember that the no deposit bonus offered by brokers should only be used to gain trading experience & not some way to earn without spending.
Be consistent about your trading style, don't be drawn in by large bonuses, and in the end carefully evaluate bonus terms and the broker.
5. Don't Ignore the Trading Fees
Just because you are trading via a bonus account does not mean that you should ignore the trading fees. Brokers also make money from trading commission & spreads.
If you have a no deposit bonus account, but the broker has high spreads, or increases their spreads even during normal market conditions, then this is a red-flag. This is because the fees can quickly eat away your deposit bonus, and you might feel that you need to deposit your own funds to continue trading.
On average, with Micro accounts, most CFD brokers don't charge more than 1.5-2 pips spreads for major like EUR/USD (even this is on the high side). But if your broker charges spreads much higher than this, then you should question that broker, because it is not normal at all.
Also, if your broker asks for very high fees (more than usual) during any withdrawals of profits made from bonus, then this is also a big red flag. Avoid a bad broker that has excessive fees, even if that broker offers you bonus you lure you to open your trading account with them.
At the end, if you are a profitable trader, the overall fees would matter more than the one time bonus because excessive fees would take away most of your profits, and make trading Risk-Reward unfavorable in long term.
FAQs on No Deposit Bonus Forex Brokers
Which broker gives free bonus without deposit?
Tickmill & FBS are some multi-regulated forex brokers that have no deposit bonus available, and they accept traders based in Nigeria. It is important to make sure that the no deposit bonus broker that you are signing up with is reputed & well-regulated, as only this will ensure that you will face no issue during the withdrawals.
Which Forex broker gives deposit bonus?
HotForex is a well regulated forex broker & they have a 100% bonus offer. Traders based in Nigeria can avail this bonus when you deposit funds of N30,000 or higher deposit. The profits made using the bonus can be withdrawn.
Should you choose a Broker with No Deposit Bonus?
You should only signup with a broker if they are well-regulated. A fake broker could offer No deposit bonus to attract new traders, but in they end they may demand deposits to withdraw funds, and you could end up losing those funds too.
The only way to be safe is to ensure that the no deposit broker that you are signing up with is regulated with atleast one Top-tier regulation, even though your account may not be registered under that regulation.