Best Forex Trading Apps in Nigeria 2023
We've ranked the Trading Apps of Forex Brokers based on multiple factors. See our listing based on regulation with Top-Tier Regulators like FCA, ASIC & FSCA, overall fees & more factors!
There are no local or indigenous forex trading apps in Nigeria. All the available trading apps are developed by foreign brokers who are not regulated by the SEC. However, since forex trading is not illegal in Nigeria, you trade forex at your own risk via these foreign regulated apps.
If you decide to open an account and trade with an app from an unregulated broker, you should keep in mind that you are at risk, seeing that you do not have investors' protection from Nigerian authorities.
However in Nigeria, over 300,000 people still go ahead to trade forex online, and this has prompted our research into several forex apps accepting Nigerian clients.
Here's out list of Best Forex Trading Apps in Nigeria for 2023
Exness – Best Trading App for Zero Spread Forex Trading
XM – Good MetaTrader Forex Trading App
IC Markets – Best Forex Trading App for Pro Accounts
Salient factors such as regulation, safety, and trading conditions were taken into consideration, while compiling this ranking.
Best Forex Trading Apps in Nigeria
We've explained below in-depth on our research related to trading apps of each forex broker in our list. See our comparison below.
#1 HotForex (HFM) Android App – Best Forex App in Nigeria
Ranks #1 Forex App in Nigeria
HFM gives you access to trade 50+ currency pairs (15 major & 38 minor), 4 Metal derivatives (Platinum, Palladium, Silver, & Gold), 11 CFDs on Indices spot & 12 Indices futures contracts, 96 Stock CFDs, 6 Commodities CFD (Oil, sugar, cotton, copper, coffee, & cocoa), 3 Bond derivatives, & 34 ETF derivatives.
Here are some of the basic things to keep in mind about HotForex if you are a Nigerian trader.
HFM Regulation & safety: HFM was incorporated as in International Business Company in St Vincent & The Grenadines in 2015. And traders from Nigeria are registered under their Offshore regulation.
However, HFM is regulated by 5 authorities outside Nigeria: The Financial Conduct Authority (FCA) United Kingdom- Tier 1. The Dubai Financial Services Authority- Tier 2, The Financial Sector Conduct Authority (South Africa)- Tier 2, Capital Markets Authority (Kenya)- Tier 3 & Offshore regulation Financial Services Authority (Seychelles).
On Google play store, the HFM app has a 4.0 star rating, and over one million downloads. It also has a user-friendly interface, so finding your way around the app is quite straightforward.
After downloading the app, you will be assigned a Personal Account Manager (PAM), who will call you and offer support to solve any challenges you may be facing.
To know the terms and conditions as well as investors' protection you have, you will need to read the terms and conditions.
Kindly note that the initial sign up procedure on the app, is not the entire registration process. Before you can withdraw or fund your accounts, there are documents you must upload.
While trading on the app, you will have access to charts, and indicators to help you carry out market analysis. It is noteworthy to add that you can learn how to trade using the HFM demo account. This way, you do not have to learn with real cash.
HFM Platform Options
Trading platforms are built differently and with different programming languages at the case may be. Some brokers even borrow or rent platforms, while some develop their own proprietary platform unique to them. HFM markets has its own proprietary platform, but is not compatible on all devices when compared to meta trader.
| Platform Type | Compatability |
| --- | --- |
| Meta Trader 4 | Desktop, Web, Android, iPhone, iPad, & Multi terminal |
| Meta Trader 5 | Desktop, Web, Android, iPhone, & iPad |
| HFM Proprietary | Android & iOS |
HFM Fees
The basic fees you will have to deal with when trading with Hot Forex app Include:
1) The Spread: HFM takes variable spreads on its accounts beginning from 1 pip. However it has a zero spread account where spread isn't deducted. This zero spread account also has a higher minimum deposit of $200, when compared to other accounts that take spread.
2) Deposit & Withdrawal Fees: HFM market supports NGN, USD, EUR, & JPY denominated accounts. However for Copy trading, you can only use USD.
| Payment Type | Payment Channel | Fees |
| --- | --- | --- |
| USD Deposit | Bank | Zero HFM fees but your bank may charge you. |
| NGN Deposit | Bank | 0 |
| USD Deposit | Wire Transfer | Zero fees when you deposit above $100 |
| Deposit | Credit Card | 0 |
| Deposit | Other Channels | 0 |
| Withdrawal | All channels except BitPay(1%) | 0 |
3) Commission: HFM only charges commission for the 'zero spread account'. The commission depends on your lot size.
HFM General Trading Conditions
While opening an account with HF market, you can choose your preferred base currency from Naira (NGN), US Dollar (USD), Euro (EUR), & Japanese yen (JPY).
You should also know that the maximum leverage HF market offers is 1:1000. This means that to open a leveraged trade worth N1, 000,000, you will have to deposit N1, 000 into your margin account, while you borrow N999, 000 from HF markets to open the position.
| HFM Account Type | Maximum Leverage |
| --- | --- |
| Micro | 1:1000 |
| Premium | 1:500 |
| Zero Spread | 1:500 |
| PAMM | 1:300 |
| HF Copy | 1:400 |
The HFM app allows you create several orders at the same time. This lets you take advantage of market movement for various asset classes simultaneously. However this depends on your account type as seen below.
| Account Type | Number of Orders at the same time |
| --- | --- |
| Micro | 150 |
| Premium | 300 |
| Zero Spread | 500 |
| PAMM | 500 |
| HF Copy | 300 |
HFM also has a Telephone Trading Feature (TTF) where you can place trades by making telephone calls to your broker.
You can contact HF market customer service through phone calls, emails, or the contact us form on their website. However, customer service is only available 24/5 from 00:00 Monday to 23:59 Friday (server time).
#2 FXTM MetaTrader 4 App – Well Regulated Broker with good Trading App
Account Minimum:

₦10,000

for Micro Account
Leverage:

1:1000
Ranks #2 Forex App in Nigeria
On the FXTM app you can trade up to 60+ currency pairs, CFDs on Gold & Silver spot contracts, Oil & Gas CFDs, Stock, Stock CFDs, & Indices CFDs. They are one of the few CFD brokers with local offices in Nigeria, and also have forex study centers in Lagos and Port Harcourt Nigeria.
FXTM Regulation & Safety
FXTM is regulated by multiple regulatory authorities: Financial Services Commission (FSC) of Mauritius- Tier 4, Financial Conduct Authority UK- Tier 1, Capital Markets Authority Kenya-Tier 3, Financial Sector Conduct Authority (FSCA) of South Africa- Tier 2.
In some jurisdictions, FXTM operates under the Exinity business name. The app has over 1 million downloads and a 4.3 star rating on Google play store.
On downloading the app, even without registration you can see the bid/ask price for different currency pairs, but you cannot trade yet.
Before completing the registration process, you have access to read the risk warning, so as to be fully aware of the risks involved with CFD trading on FXTM's platform.
FXTM Platform Options
FXTM app gives you access to the Meta trader 4 (MT4) and Meta Trader 5(MT5) platforms, which can be seamlessly installed on your mobile phone.
MT5 is the newer version of MT4 and the new design incorporates features like better partial order filling, better order flow management, Netting, more technical indicators & graphical objects, email with attachment, embedded community interactive chat using MQL5, etc.
FXTM interface is quite easy to navigate, however you have to do your due diligence to find the products and see their quotes.
You should note that the initial sign up process on the app is not the entire registration process. You will have to upload relevant documents and choose an account type.
FXTM Fees
1) Spread: FXTM takes zero spread on its Advantage Account, but takes minimum spread of 1.5 pips on other accounts.
2) Commission: When using an FXTM Micro and Advantage Plus accounts, you do not have to worry about commission. However for the Advantage account, you will pay around $0.4 to $2 in commissions, depending on trade volume.
3) Deposit & Withdrawal Fees: You can deposit and withdraw money using different methods like: Nigerian bank instant transfer, e-wallet, credit cards, and bank wire.
The number of hours or days deposit or withdrawal takes will depend on the methods you use. However, irrespective of the method FXTM does not charge a deposit fee, but will charge a commission for withdrawal.
| Payment Channel | Deposit Fee | Withdrawal Fee |
| --- | --- | --- |
| Nigerian Bank | 0 | 0 |
| Credit cards | 0 | 3 USD, 2 Euro, 2GBP |
| Google Pay | 0 | Not supported |
| e-Wallets | 0 | Zero but 0.5% Commission for Perfect Money wallet only |
| Bank Wire | 0 | 30 EUR |
FXTM General Trading Conditions
You can choose between Naira, US dollars, EUR, and GBP as your account base currency.
The maximum leverage FXTM offers is 1:2000. This high leverage gives you the chance to make more profit with less capital, but not without its risk.
FXTM trading app is equipped with a demo trading account, to let you practice in a simulated environment with fake money.
The FXTM app also supports copy trading where you can copy other master traders, with as little as $100 startup deposit.
Two execution types exist on the FXTM app: Instant and Market execution. Instant execution means your order will be filled at the current price, while market execution means you can specify market conditions under which your order will be executed.
You can also send in multiple orders at once when using the FXTM app so as to hedge your risk, and diversify as you trade. The Micro account gives room for 300 orders max while the other accounts allow you send in an unlimited number of orders, but with a maximum volume limit of 100 lots per order.
FXTM has 3 account types to choose from namely: Micro account, Advantage account, and Advantage Plus account.
| Account | Execution | Maximum Leverage | No of orders at the same time |
| --- | --- | --- | --- |
| Micro | Instant | 1:1000 | 300 |
| Advantage | Market | 1:2000 | Infinite |
| Advantage Plus | Market | 1:2000 | Infinite |
Third, FXTM customer service is available 24/5 via live chat, call and email. You can have a live chat with a customer service agent via WhatsApp, web, telegram or messenger.
#3 OctaFX App – Best Forex App for low spreads in Nigeria
Account Minimum:

$50

Leverage:

1:500
Ranks #3 Forex App in Nigeria
With the OctaFX app you get exposure to 35 different currency pairs. The app also lets you trade CFDs on 150 stocks, 10 Indices, Gold & Silver, 30 crypto currencies, Gold & Silver commodities.
Here is some basic information to keep in mind about OctaFX.
OctaFX Regulation
OctaFX is regulated by CySEC in Cyprus to operate as an investment firm. CySEC is regarded as a Tier 2 regulator. It is also registered in St. Vincent & The Grenadines as an international investment company.
In terms of regulation, OctaFX ranks lower than the other 2 brokers above them in our list. This is because they are not regulated by any Tier-1 regulation.
The OctaFX trading app on Google play store has over 10 million downloads and a 4.4 star rating, while the OctaFX copy trading app has over 5 million downloads and a 4.5 star rating.
OctaFX Trading Platform Options
OctaFX supports MT4 & MT5 trading platforms (on Android & iOS), and have also developed their own proprietary trading app. Depending on your needs you can choose to use any of them. See list below:
| Platform Type | Compatability |
| --- | --- |
| Meta Trader 4 | Web, Android, Windows, mac OS |
| Meta Trader 5 | Web, Android, Windows, mac OS |
| Octa Trader | Web, Android, iOS |
OctaFX Fees
1) Spread & Commissions: OctaFX does not charge commission or swap fees. The major fee you will encounter while trading with this broker is spread. Octa FX deducts a floating spread beginning from 0.6 pips and changes based on market conditions.
OctaFX is an ECN broker, and does not offer guaranteed stop loss orders, but offers Negative Balance Protection to stop your account balance from falling into negative. This broker offers up to 35 currency pairs for you to trade, and the spread varies depending on the currency pair.
2) Deposit & Withdrawal Fees: OctaFX does not charge fees for deposit and withdrawals from Nigerian Banks, MasterCard, crypto currency, and e-Wallets. Deposits & withdrawal services are all offered for free.
General Trading Conditions
OctaFX does not support Naira accounts. You can only open USD denominated accounts. However there is a currency converter feature that lets you deposit Naira and convert it to dollar at the best available exchange rate.
The maximum leverage you can trade with is 1:500. Knowing that leverage adds to the risk of your trade, you can also choose to trade on smaller leverage. The minimum leverage you can trade with is 1:1.
OctaFX also supports Copy trading where you can earn commissions from copiers who subscribe to your service. As a copier you also copy a master trader to learn from his strategy, but his losses can affect you proportionately too.
OctaFX has account types which are the Octa FX-MT 5 which it recommends for expert traders, Octa FX-MT4 recommended for traditional traders, and the Islamic account.
| Account | Execution | Maximum Leverage | No of orders at the same time |
| --- | --- | --- | --- |
| Octa FX-MT5 | Instant | 1:500 | – |
| Octa FX-MT4 | Instant | 1:500 | – |
Secondly, OctaFX customer service is available 24/7 in several different languages. You can reach customer service via email or live chat.
Live chat may be the fastest way to speak to a customer service agent as they respond in less than 30 seconds even during non-trading hours.
How to Choose Forex Trading App
1) Broker's Regulation
Note that forex trading is not regulated in Nigeria. So, all the brokers in our list are foreign regulated brokers, and when you are trading forex on any app, it is likely to be a foreign app.
So, when choosing a Forex broker, you may want to consider one that is regulated by a well-known regulatory body like the UK's FCA, South Africa's FSCA, Australia's ASIC, etc.
Their license number should be conspicuously displayed on their website. You should copy the number and verify it from their regulators website. It is not enough to just see a license number and not verify t as it could be fake.
For example, FXTM, mention their exact regulations on the footer section of their website. They also mention the company name under which the client's are being registered.

As you will notice, that FXTM is regulated under multiple Top-tier regulations, so they are considered to be a low risk broker, and you can trade on their app. It is also important to check if the regulations mentioned are genuine, and for this you can search their regulatory license no. on the regulator's website
2) Availability on multiple Devices & OS
Is the app available on both Google play store for Android and iOS app store for iPhone? If an app is available on play store but not on app store or vice versa, you may want to think twice.
This is because there is always a possibility that you change your device, and that shouldn't stop you from trading on the go.
3) Demo Account
Whether you are a professional or amateur trader, you should always consider trading with apps from brokers that offer demo accounts.
A demo account gives you the opportunity to test new strategies, and hone your skills before going live.
4) Minimum Deposit
If you are a trader who prefers to open trades of small volumes which require little minimum deposit, you may not want to trade with brokers who have high minimum deposit requirement. This will not match your trading style.
Also, you should consider a deposit of a certain amount that equals your risk threshold, without using too much leverage (not more than 1:10). For example, if you are trading 1 mini lot, which is equivalent of USD 10,000, then you should preferably have USD 1000 in your account equity, so you don't risk too much on every trade.
You should avoid trading apps that have very low deposits & offer very high leverage. This is because these apps will likely cause you to lose your equity very quickly, as you will not have any risk management in place.
5) Total Trading Fees
While you are looking to make money from trading Forex, always keep in mind that brokers are also trying to make money by making their trading platforms available to you.
These brokers make money by charging fees. As such, you may want to compare trading and non-trading fees of different brokers.
For example, trading apps generally charge you 'variable spreads' for each trade. This depends on the instrument which you are trading, and your account type as well (forex apps generally have multiple account types, with different pricing structure).
In the image below, you will see that this broker (HFM in this example) has mentioned their typical or average spread for trading Gold CFD on their app. The spreads are lower with the Pro Account, but there is also a commission per trade with that account type.

Overall, the app with the lower fees is considered better, but if that app is unregulated, you should still not choose it. You should compare fees of regulated apps only.
6) Security
Forex trading comes with several risks, aside from the possibility of losing, your trading app can also be hacked.
As such, security is one of the necessary things to consider when choosing a broker. Does your preferred broker provide two factor authentication during logins and withdrawals?
Two factor authentication makes it more difficult for hackers to get into your trading app.
7) Total Number of Currency Pairs on App
Every trader has a different reason for trading. Some want to take advantage of certain markets. You need to check if the currency pairs offered, are what you intend to trade in before signing up.
There's no point of signing up and depositing funds, only to find out your desired currency pair is not supported by the broker.
8) Customer Service
It is necessary for you to be able to reach out to your broker for help at any time you need to. This is why you should consider choosing brokers that have good customer service for traders in Nigeria.
The broker should have various customer service channels such as live chat, email, etc., and be swift to respond to complaints. It is best if the forex broker has local phone no. where you can contact & reach out for help. As per our research, FXTM & HotForex have local phone numbers in Nigeria.
9) Deposit and Withdrawal
Deposit and withdrawal should be an easy and straightforward process. It is best if the broker has local methods like Netbanking via local bank. Some brokers like HotForex, FXTM, Exness & OctaFX do accept local deposits (and withdrawals) in Naira.
You may want to compare the available methods for depositing and withdrawal and fees involved. While some brokers may charge a fee for withdrawal, others do not.
How to Download a Forex Trading App in Nigeria
You can download a forex app on your Android or iOS device by following these simple steps:
Step 1. Choose Forex Broker: The first step is to choose the forex broker with which you want to trade. You should only choose a broker who is regulated with atleast 1 of these Regulations: FCA. ASIC, FSCA, CySEC.
Step 2. Open Account with the Broker: You will be required to fill in the information on the broker's website. This would include your Identity Information, Address, Trader Adequacy/Experience information. After you have completed the Open Account form, you need to submit your 'ID Proof' & 'Address Proof' for KYC.
Below is an example of the Open Live Account Registration page on HF Markets. When you visit HF Markets, you will a green 'Register' button on the top. Similar to this, all other forex broker have a page to Open Real Trading Account through their website.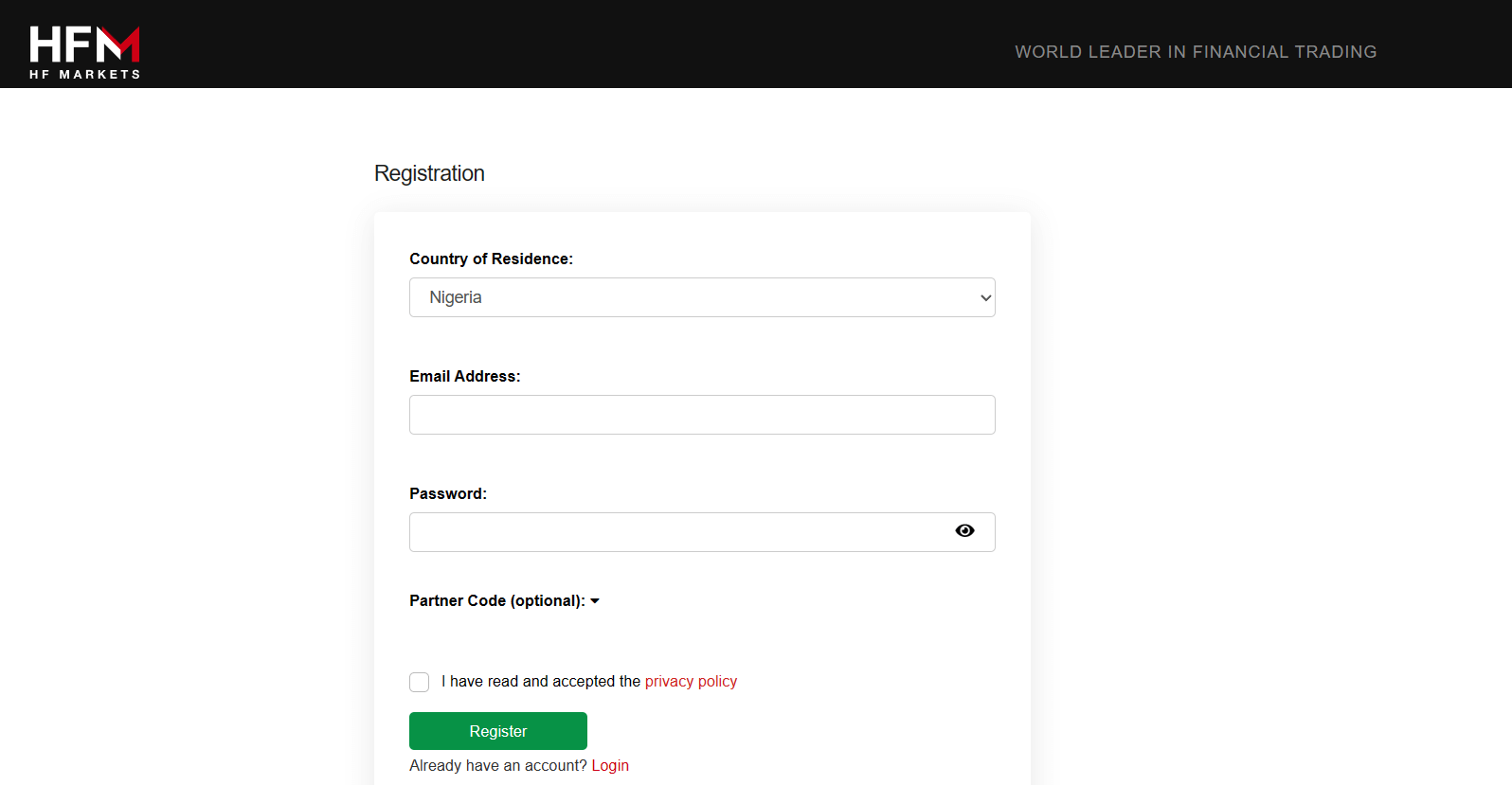 Step 3. Download the App on your MobileL After the verification is done, your broker will generally share the links via email, to download the Android or iOS app. You can then install these apps on your device, and use the login details sent to your email to login.
Step 4. Make a Deposit: You can make the minimum deposit the forex broker allows. This can be as low as N500 at some forex brokers. The deposit can be made using methods supported by the broker, like bank transfer.
Step 5. Scan the pairs & Start Trading: After you have decided what you want to trade, your position sizing, the currency pair etc., you can then use the broker's app to place the trade. The app will show you your MTM losses & profits.
FAQs on Best Forex Trading Apps in Nigeria
Can I Trade Forex from Nigeria?
Yes, you can trade Forex from Nigeria. Although Forex trading is not regulated in Nigeria, it is not illegal.
There are a good number of foreign Forex brokers that accept traders from Nigeria. However, you will be trading at your own risk.
Can my Trading app be hacked?
If you don't practice good web hygiene you risk a breach, and your trading app can be compromised. You should use strong passwords, install an antivirus, and password lock your phone amongst other security measures.
Should I trade via Forex apps regulated that are Un-Regulated?
No, you should avoid trading via unregulated forex apps, as some of these brokers may be scam. Also, some brokers may simply register under Offshore regulators to avoid scrutiny.
Some regulators have weak regulation standards (especially offshore regulators), so many forex brokers try to get regulated under these jurisdictions because it is easy. But this can backfire for the traders as weak regulation encourages poor corporate governance and fraud. Tier 1 regulators from UK, Australia, and other developed countries are considered the safest.