Best Bitcoin Brokers in Nigeria 2023
We have compared the popular brokers that offer Bitcoin CFD trading platform at lowest fees.
Bitcoin trading volumes are on a constant rise worldwide, and also in Nigeria. Bitcoin generally has higher volatility than other trading instruments, making it attractive for day traders. Apart from trading, bitcoins have also given access to various financial services in Nigeria which were not available previously.
Traders in Nigeria can trade bitcoins in two ways. Bitcoins can be bought and sold directly from exchanges that offer bitcoins in return for fiat currency. Another method to speculate on the value of bitcoin through Contract for Difference (CFDs) on cryptocurrency that is offered by various brokers in Nigeria.
List of 7 Best Bitcoin brokers in Nigeria for CFD traders
Avatrade – Fixed Spread Bitcoin Trading Platform
Exness – Best Bitcoin Broker with Low spread
OctaFX – Best Bitcoin CFD Broker with Copytrading
Plus500 – Best Crypto CFD trading platform
IC Markets – Good Low cost Bitcoin CFD trading
RoboForex – Bitcoin CFD Broker
In this guide, we have listed and evaluated steps to trade bitcoin as CFDs via brokers that offer cryptocurrency CFDs in Nigeria. These brokers allow traders in Nigeria to speculate on bitcoin against fiat currency like BTC/USD, BTC/EUR, etc. along with bitcoin against other cryptos like BTC/ETH, etc.
Best Bitcoin Brokers in Nigeria Compared
1. Hotforex – Overall Best Bitcoin Broker in Nigeria
Fees:

26 pips Typical spread

for BTC/USD pair.

Account Minimum:

$5

Leverage:

1:500
Ranks #1 Bitcoin Broker in Nigeria
Hotforex is a reputed forex & CFD broker that is regulated with multiple top tier regulators including FCA, FSCA, CySEC. They also offer Bitcoin CFD trading to traders in Nigeria, along with 11 other crypto CFDs.
Hotforex is considered safe broker for trading Bitcoin as a CFD as they are well regulated with multiple regulators. As per the trading information table on their website, their typical fees for trading BTC/USD pair is 26 pips for all their trading account types, which is not that high. The only fees is their spread, no other commission is charged.
Traders can trade Cryptos at Hotforex via Metatrader platform. They offer local bank deposit & withdrawal options, and traders can open account in USD base currency or NGN. Hotforex has a very good local support via phone number in Nigeria, local office, chat support & email.
Hotforex Pros
Hotforex is regulated with FCA in UK, FSCA in South Africa & CySEC.
Spread for trading BTCUSD & other Bitcoin pairs is not that high.
Local phone number is available in Nigeria.
Bank Transfer options available for funding & withdrawal.
Zero Fees on Funding & withdrawals.
Hotforex Cons
Their BTC trading fees is higher than some other CFD brokers.
Also read our detailed Hotforex review for all the pros & cons.
What to Consider before choosing Bitcoin Broker
Before you start bitcoin trading through CFD in Nigeria, certain factors must be kept into consideration for pleasant and rewarding trading experience.
1. Fees & Commission: Each broker offers different features to the traders and charges different fees and commission for the same trading service. You must check every detail regarding fees and commission before signing up & making trades with any broker. Lower trading and non-trading fees can enhance the profit margin while trading cryptocurrencies.
For example, the below table highlights the Crypto trading fees at Avatrade for each of their available Crypto CFD instruments.

Similarly you can compare the fees for trading Crypto CFDs at all the other brokers by checking the list of Financial Instruments available on their platform.
Depending on the broker & account type, the spread can be very high to moderate to low. Exness for example, has a typical spread of 139.9 for BTCUSD trading with the Pro account (which is their lowest fees account type). But the trading spread is higher at 223.9 with their Standard Account.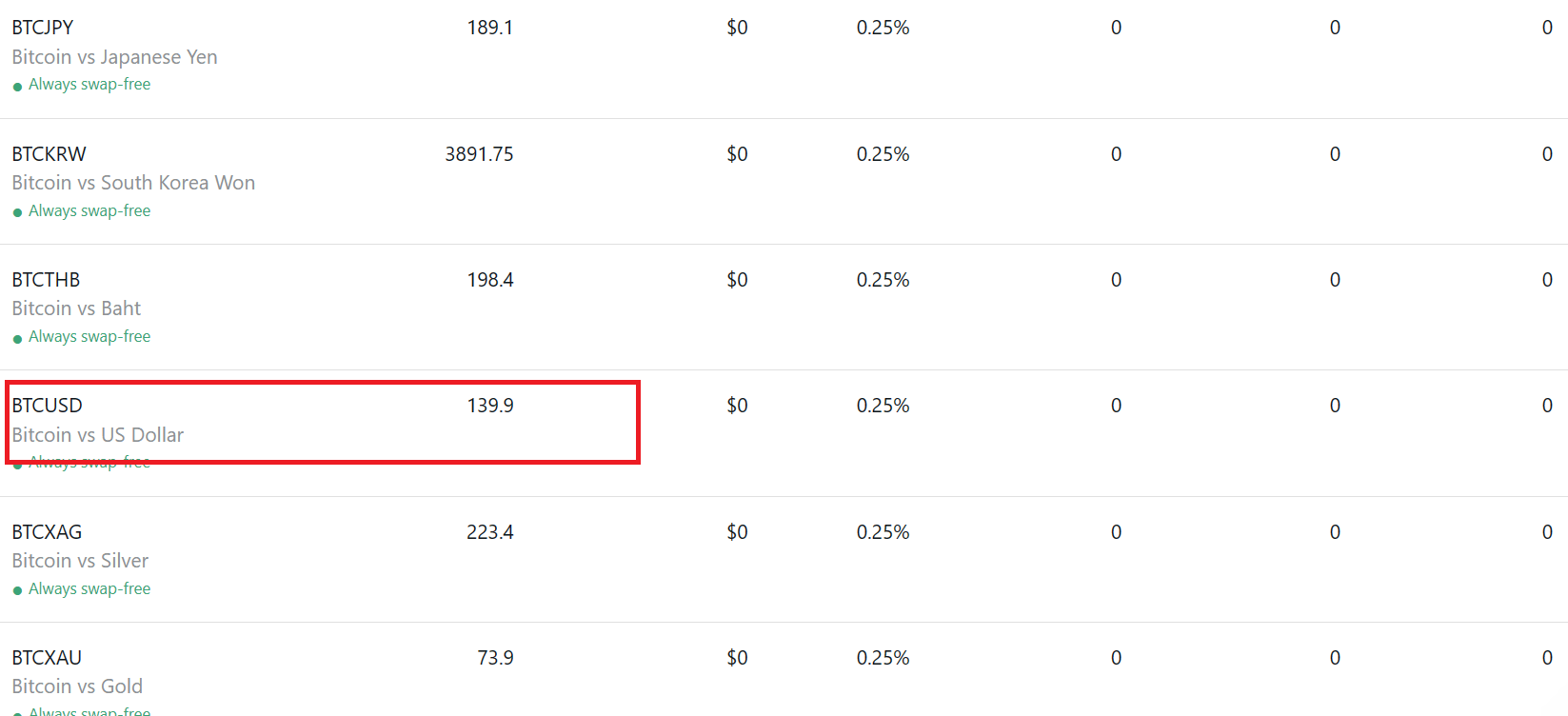 If we are to put this into exact percentage terms, let's say that BTCUSD is currently trading at $25,000, then the fees per trade with Pro account would be almost 0.56%, and it would be around 0.9% with the Standard Account.
So, even before the trade ever works out, your account would already be in a large drawdown depending on your position sizing. If you are using leverage to trade BTC/USD on a small account, then it can be very unprofitable as a CFD if the fees is very high. This is because you will have to trade a move to more than 1% of the price just to make breakeven, plus some profit.
Before you trade BTCUSD position, take the CFD trading spreads at your broker into consideration. If it is any higher than 1% (which already is very high), then you should avoid that Bitcoin CFD broker.
2. Top-tier Regulations: Choosing the right broker is very essential to have a safe, convenient, and fruitful trading experience. Out of a large number of available brokers in Nigeria, you should not just go straight for the broker that charges the lowest fees & highest leverage. The safety of your investments at lower risk is equally important.
It is best to choose a CFD broker that offer Cryptocurrency CFD trading & is regulated by top tier regulatory authority. Not every regulation is the same, so ensure that the CFD broker is regulated by major regulators & not some Offshore regulation.
For example, Plus500 is regulated by FSCA, FCA, CySEC, etc. Being regulated by a The top tier regulatory authority ensures the safety of your funds & protection against any malpractices by a broker.
3. Cryptocurrency Literacy: Before you start trading bitcoin or any other cryptocurrency, it is essential to know the basic details about the concerning cryptocurrency. The bitcoin market is highly volatile and the price movements can take place at any time of the day throughout the week.
A large number of factors can influence the value of a bitcoin in different currencies. Traders must learn basic details about cryptocurrency to make better trading decisions at right time.
4. Suitability: The bitcoin market is turbulent to price movements and this makes it highly risky. Traders must be ready to take high risk and should be able to bear heavy losses. Traders must check their expectations with realistic outputs of bitcoin trading before making actual trades. For beginners, it is advisable to trade from a demo account with virtual currency to gain decent experience and check suitability.
5. Crypto Broker's Customer Service: A helpful and user-friendly customer service offering from the broker can be a great advantage. A resourceful broker should have a well-informed customer service that is always ready to solve queries and assist the traders in every situation.
Frequently asked questions: Bitcoin Brokers in Nigeria
Which is Bitcoin?
Bitcoin is a decentralized digital currency or virtual currency that only exists on the internet. It is actually a file on a computer that is stored in the digital wallet of the owner. The ownership of bitcoin can be transferred from one wallet to another and a record of each transaction is kept in a public list called a blockchain.
New Bitcoins are generated as a reward for record-keeping of a public ledger called the blockchain. The process of generating bitcoins is called mining. Apart from mining, bitcoins can also be obtained by exchanging products, services, and physical or fiat currency at prevailing rates. The fluctuating prices of bitcoin allow traders to speculate on the price of bitcoin by buying at low and selling at higher prices or vice versa.
The Securities and Exchange Commission of Nigeria announced in September 2020 that it will be regulating the trades of cryptocurrencies in Nigeria. The Nigerian SEC has come up with regulatory standards to promote ethical practices in cryptocurrency trades while enhancing the transparency and security of the traders. Earlier, cryptocurrencies like bitcoin, Ripple, Litecoin, Ethereum, etc were not considered as money. Due to a rise in demands and increasing trading & transaction figures in Nigeria, the SEC has implemented regulations to promote cryptocurrency trading and transactions.
What are Bitcoin CFDs?
The price movements of bitcoin and other cryptocurrencies can be speculated on, without actually owning them through CFDs. Any potential trader in Nigeria can trade bitcoins through CFDs directly by creating an account with the brokers that offer cryptocurrency CFDs in Nigeria.
Buying and selling of actual bitcoins involve complexity while there is always a risk of theft from the exchange or your wallet. This storage security risk gets eliminated while trading cryptocurrency CFDs. The contract for difference also allows traders to take the advantage of leverage, margin, and various other useful features that can enhance the trading experience and increase profit opportunities.
But there are risks involved with trading CFDs & use of leverage. Traders must understand & learn these before investing.
How to Trade Bitcoin in Nigeria?
Bitcoins can be bought and sold from an exchange at current BTC prices. Or Bitcoins can be traded through a contract for difference.
By dealing with CFDs, the bitcoins are not actually bought, sold, or stored in your wallet. Instead, the price movement of bitcoins is speculated against numerous physical or fiat currencies.
Various international brokers offer cryptocurrency trading in Nigeria through CFDs. Not only bitcoins but also other cryptos like Ripple, Ethereum, Litecoin, etc, can be traded against fiat currencies like USD, EUR, etc. Traders in Nigeria can also trade one cryptocurrency against another like BTC/ETH. The most commonly traded bitcoin CFD pairs are BTC/USD and BTC/EUR.
To begin bitcoin CFD trading in Nigeria, you need to open an account with a well regulated and trustworthy broker in Nigeria like Hotforex or Etoro that offers cryptocurrency CFDs. There are several FSCA regulated brokers in Nigeria while some are also regulated by foreign top tier regulatory authorities.
With the availability of leverage, the traders are allowed to open a bigger position with a smaller initial deposit called margin. Although, the leverage ratio for cryptocurrency CFDs is generally lower than other CFDs. Traders in Nigeria can use leverage ratio of 1:2 to 1:5.
Bitcoin trading through CFD can be better understood with the help of an example. Suppose the current price of a bitcoin against USD (BTC/USD) is $11,700 which is expected to rise further in the upcoming week. If the broker is offering a 1:5 leverage ratio, you only need to open your trade with 1/5th margin of $11,700 to buy one bitcoin CFD i.e. at $2,340. Later on, if the bitcoin price rises to $12,000, a profit of $300 will be booked. It must be noted that bitcoins can be bought and sold in decimals through exchange as well as CFDs.