OctaFX Review 2022
OctaFX is our 3rd ranked forex broker for Nigerian traders. They have low spread, local commission free bank deposit/withdrawal options, Copy Trading feature, negative balance protection & MT4, MT5 platforms. Read our full OctaFX Review to find if they are good fit for you.
OctaFX is a forex & CFD broker that was founded in 2011, and they are a popular broker in Asian markets. They also accept Nigerian clients, and they also offer local bank transfer payment option for traders in Nigeria.
OctaFX offers multiple trading instruments including 28 currency pairs, CFDs on indices & metals, as well as 3 cryptocurrencies. But the total number of instruments are somewhat limited. They do offer fast order execution, quick deposit/withdrawals, copy trading feature and good customer support.
We signed up with their platform for this review. Read our detailed OctaFX review to find out what they are good at, and where they can improve.
First, right below is a quick summary of OctaFX's pros & cons for you.
OctaFX Nigeria Pros
OctaFX have local Bank, Online transfer deposit & withdrawal option in Nigeria, without any extra fees.
Low Spread with both their Account types. For example, the typical spread is 0.7 pips for EUR/USD. There is not extra commission.
OctaFX offer negative balance protection to their clients.
MT4, MT5 platforms are available with both mobile and laptop version.
They offer good support via Live Chat (24/5) & via email.
OctaFX Nigeria Cons
OctaFX is regulated with SVGFSA. They are not regulated with any Tier-1 regulation.
The number of trading instruments available for trading are somewhat limited. Only 35 currency pairs are available for forex trading, and other CFDs are limited too.
OctaFX – a quick look
| | |
| --- | --- |
| Broker Name | OctaFX Nigeria |
| Year Founded | 2011 |
| Website | www.octafx.com |
| Address | Suite 305, Griffith Corporate Centre, Beachmont, Kingstown, Saint Vincent And Grenadines |
| OctaFX Minimum Deposit | $50 (₦18,000) |
| Maximum Leverage | 1:500 |
| Regulation | SVGFSA (19776) |
| Trading Instruments | 35 Currency Pairs, CFDs on 30 Cryptos, 24 Commodities, 3 Energies, 10 Indices |
| Trading Platforms | MT4, MT5 |
| OctaFX Bonus | 50% deposit bonus on all deposits (for new traders & existing traders) |
Regulation & Safety of Funds
Traders based in Nigeria are registered under OctaFX.com, which is their global website.
OctaFX is regulated with the following regulators:
SVGFSA: The OctaFX.com website is registered under Octa Markets Incorporated established in St. Vincent and the Grenadines, which permits them to offer higher leverage to traders and bonus promotions.
OctaFX has segregation of their client's funds and negative balance protection.
Overall, OctaFX is not regulated with any Top-tier regulator, and they are regulated with SVGFSA only. But they have been in business for few years now, and we did not find complaints regarding withdrawal issues.
So, we consider them to be relatively safe but a moderate risk CFD broker.
OctaFX Fees
We reviewed OctaFX for the trading fees offered by them and any hidden charges. We found their fees to be quite competitive compared to other forex brokers in Nigeria.
Below are the breakdown of all the trading & non-trading fees of OctaFX:
Variable Spread accounts: OctaFX offers floating spread with all their account, but fixed spreads are available with their MT4 account for a limited number of symbols (EUR/USD, GBP/USD, USD/JPY, USD/CHF, AUD/USD, NZD/USD, USD/CAD, EUR/GBP, EUR/JPY, GBP/JPY, XAU/USD, XAG/USD). Below table shows their average spread by currency pairs.

No Trading Commission: OctaFX does not charge any trading commission with MetaTrader 4 & MetaTrader 5 account. They are a spread only Metatrader based forex broker.
Zero Deposit and Withdrawal Charges: OctaFX does not charge anything on deposit and withdrawal for Nigerian clients. So there are no hidden charges in case of deposit and withdrawal with them. But your bank or payment gateway may charge you some fees for a transaction, which you need to confirm from your bank.
Negative Balance Protection: OctaFX offers the negative balance protection for all of our clients. With OctaFX, if your opened trade somehow is closed due to the Stop Out and your balance would reach in negative, then they will automatically top it up to 0 in a couple of seconds.
OctaFX Account Types
OctaFX offer 2 Live trading accounts & also a Free demo account. We compared the features of their accounts with other brokers. Here is what we found.
OctaFX Demo Account
OctaFX offers a Free demo account to all clients, using which you can practice and familiarise themselves with their platform and Forex trading. Once you have gained enough experience, you can open live trading account to start a Forex trading.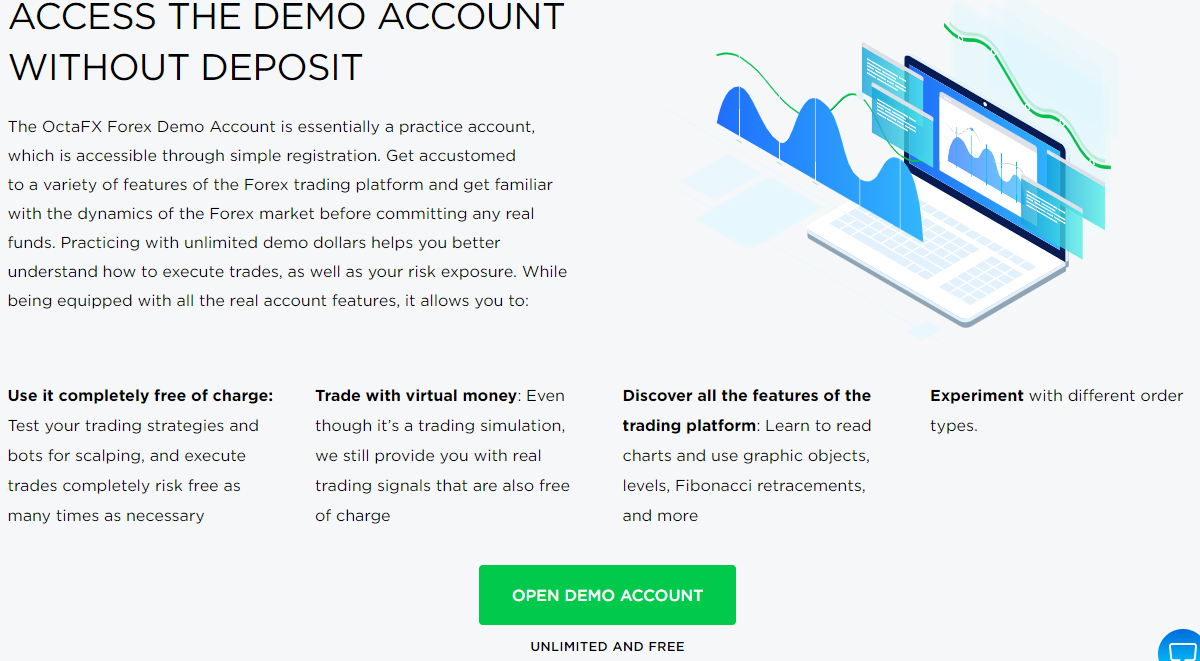 OctaFX Live Trading Accounts
The following 2 Live account types are available at OctaFX for Nigerian traders:
MetaTrader 4: There are 35 currency pairs, CFDs on 2 metals, 30 crypto and 4 indices under this account. You need to make the minimum deposit of $100 with this account. Moreover there is a option between fixed spread & floating spread for this account. You can choose between USD & EUR as your account base currency.
MetaTrader 5: In MetaTrader 5 account the same no. of CFD Trading instruments are available as teh MT4 account. But with this account there is a floating spread starting from 0.6 pips with no commission and minimum deposit of $100.
How to Open Account with OctaFX Nigeria
Opening an account with OctaFX is very simple. You simply need to follow the below steps one by one to complete the registration with them.
Step 1) First of all open the home page of OctaFX and click on the Open Account button at the top the home page.
Step 2) Now you need to open the personal information like name and email which is necessary to open the account. You can also signup using your Facebook or Gmail account.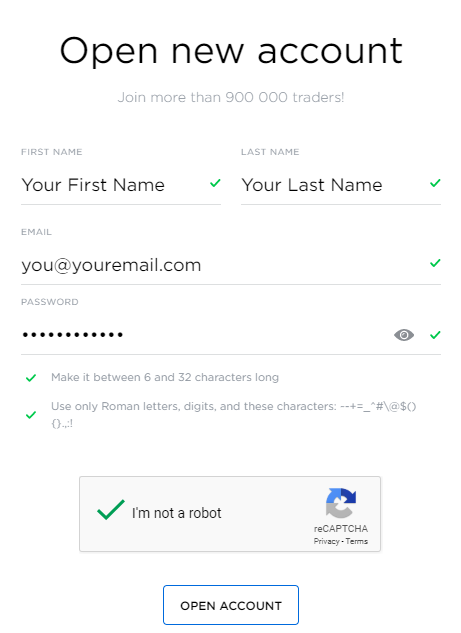 Step 3) After entering all the required details, you need to click on Open Account button at the bottom of the same pop up as shown in the below screenshot.
Step 4) Once done with the step 3, you need to verify the authorization by clicking on the link sent to your email for verification.
Step 5) Now you will be redirected to a page where you need to enter your details under "Provide your Details" section.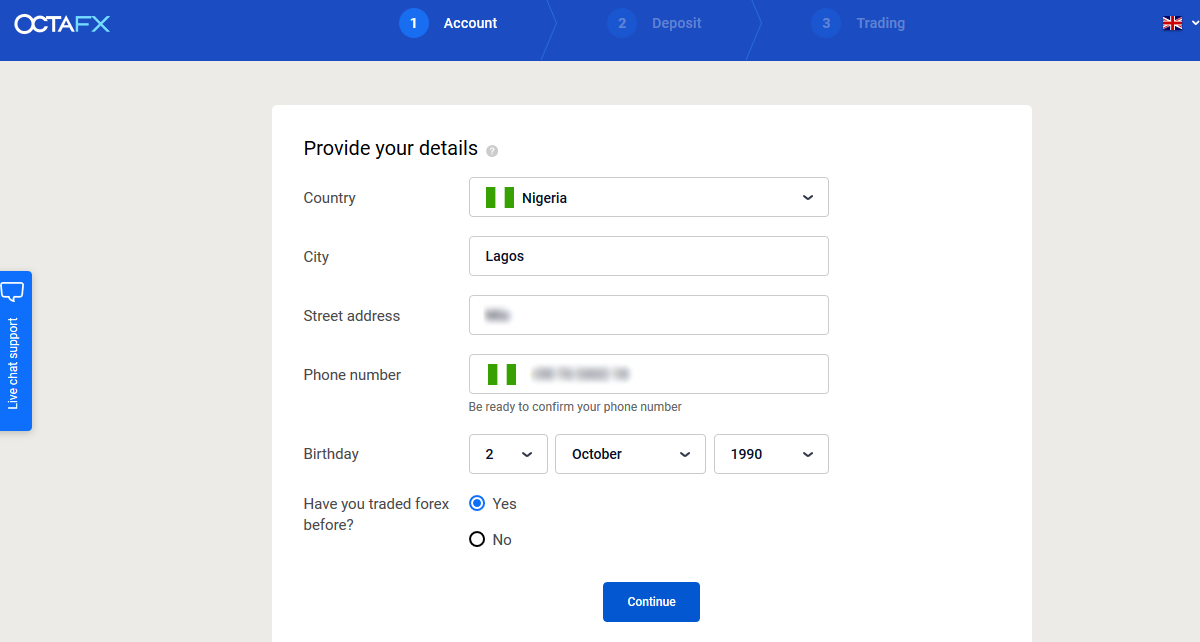 Step 6) In next page you need to select account type and other platform like base currency, leverage, etc. as shown in the below screenshot.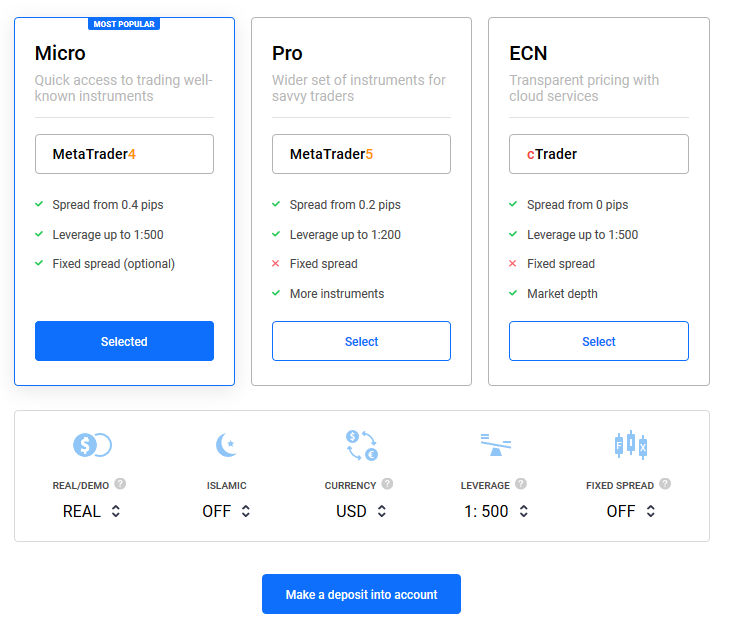 Step 7) At last you need to make the deposit by clicking on the Deposit button on the right side of the screen. You can deposit the funds to start trading.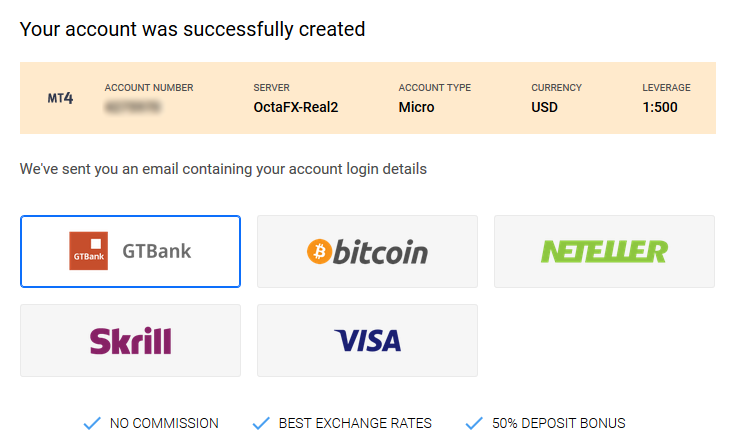 Congratulations! Your account has been created and funds will be reflected to your account as per the method you have used. You can now start trading as per your strategies.
OctaFX Platforms
OctaFX has a wide range of platforms, depending on your account type with them (which you have to choose during account opening). They are one of the few brokers to offer both Metatrader versions (MT4 & MT5).

Here are the trading platforms available at OctaFX:
MetaTrader 4: This is the most popular trading platform in the Forex industry as per usage. MT 4 trading platform is very useful and simple to use for the beginner and the experienced trader. It has user friendly interface which is very easy to use and customization is also possible. So you can add EAs & custom indicators as per your requirements.
MetaTrader 5: MT5 is the advanced version of MT4 platform with some new and advanced features which make it different from its previous version. There are many indicators and graphical charts which helps the clients to understand the markets and make their trading strategies. Also, OctaFX has more CFD instruments with their MT5 plaform.
OctaFX Deposits & Withdrawals
OctaFX does not add any extra fees/charges on deposit and withdrawal, which means they offer commission free payment methods. So you will get full amount of your funding & withdrawals.
OctaFX claims that the withdrawal process usually take 1-3 hours maximum for most methods, we did not test all methods. Some of their wallet methods have instant funding & withdrawal.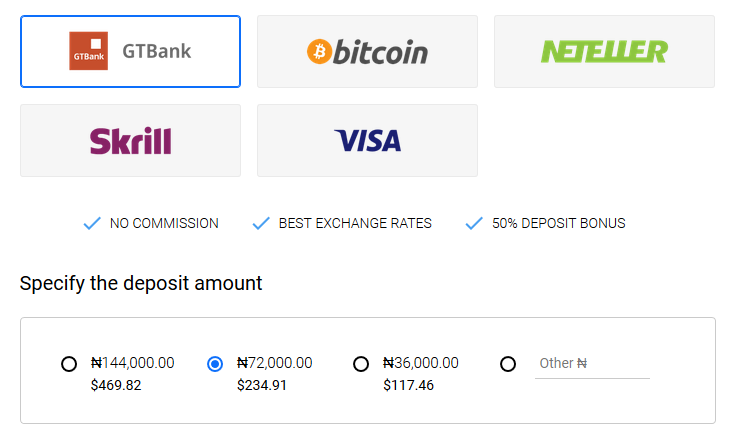 We have listed below all the payment methods using which you are make the deposit and withdrawal with them.
OctaFX Deposit Methods:
E-wallets: You can transfer the funds to start trading, using the various E Wallets like Skrill, Neteller etc. There are no charges while making the deposit using these E wallets. The minimum deposit for Netller and Skrill is $50 and equivalent BTC by Bitcoin.
Cards: You can also use your VISA, Mastercard or Verve card to make deposit without any charges. You will get instant funding in case of using card for depositing. The minimum amount should be $5 for making deposit using your VISA card.
GT Bank Transfer in Nigeria: You can also use bank deposit and bank transfer method to add funds to your OctaFX account. But the funds added with this method can take a few hours to reflect in our account, as it requires payment tracking from OctaFX's side with their bank. For deposits made using GT bank, the minimum amount in Naira is ₦36,000.
OctaFX Withdrawal Methods:
E wallets: You can add your E-Wallets details on withdrawal form in OctaFX account panel, to receive funds in your Wallet. The minimum amount should be $5 for Netller & Skril and for Bitcoin is Ƀ0.00058.
Bank Withdrawal: You need to send them your GT bank account details to process the withdrawal. The minimum for withdrawal is ₦1,750.00. The withdrawal made with this methods can take few days time. This the preferred method with traders in Nigeria.
Credit/Debit Card: Traders can also receive funds in their cards, if you have used this method to add funds. The minimum withdrawal in case of card is $20.
The deposit & withdrawal options at OctaFX are good for traders in Nigeria as local traders can also use local payment options like bank transfer.
OctaFX Bonus
OctaFX have an ongoing bonus offer, which is available for Nigerian traders as well. Below are the available offers at OctaFX.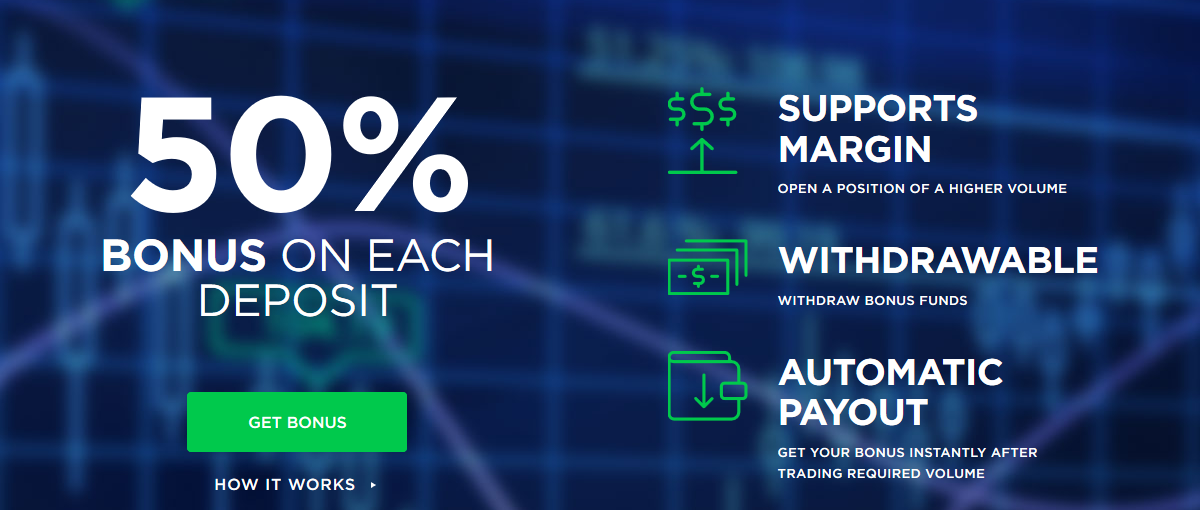 50% Deposit Bonus: OctaFX has a 50% deposit bonus right now, under which you can deposit any amount with them and you will get 50% bonus on it. You will be eligible to get 50% bonus on all your deposits. Also, the the bonus can be withdrawn provided a few trading conditions are met i.e. the number of lots traded.
OctaFX Customer Support
Overall, OctaFx's customer support is reliable & active. They have a live chat that is available on weekdays, and they have 24*7 support available via email.

1. Good & Quick Chat Support: You can contact OctaFX via live chat support on their website, which is available for 5 days in a week & for 24 hours. We did not exerience any hold time while connecting, and the responses were very quick. So, we believe that they normally handle most issues promptly. According to us, the best way to contact with OctaFX is via chat. .

2. Email: You can contact OctaFX via email [email protected] If you send the email during their business hours, then they normally reply & resolve issues within 0-3 hours.
3. No Local Phone Number: There is no local contact number for Nigerian clients listed on their website. But they have a callback which you can request via their live chat & you can also contact them on their Whatsapp number for text support.
Overall the support at OctaFX is good, other than the fact that they don't have local phone number in Nigeria. But we found their live chat & email support to be responsive in answering our questions.
Do we recommend OctaFX?
Yes, we recommend OctaFX for Nigerian traders as they have low spread, good bonus & decent support.
The positive points about OctaFX are their low spread on major currency pairs, and their good customer support. Also they offer multiple trading platforms including the latest MT5, as well as the old MT4 version. So they it should fit both new and experienced traders.
Moreover, they also offer local bank deposit and withdrawal in GT Bank to Nigerian clients, which is a very good option and make them one of the few brokers that offer it.
On the downside, their trading instruments are limited as they only offer upto 50 currency pairs & other CFDs. Also, they could do better in terms of getting regulated with more regulators.
But overall, OctaFX is a good broker if you are looking for low-cost forex trading.
Frequently asked questions
Is OctaFX trusted?
OctaFX is registered with SVGFSA, which is an offshore regulation. They are not authorized by any Tier-1 regulation like FCA, ASIC etc. But they are a popular CFD broker that has been operating for a few years. So, they are considered a moderate risk forex broker.
What is the minimum deposit at OctaFX for Nigerian traders?
The minimum deposit at OctaFX is $100. They offer 2 account types, and both have $100 minimum deposit.
How to Trade on OctaFX?
You can trade forex & CFDs on OctaFX by opening your trading account with them. You can use their mobile app or the MetaTrader platform to trade. They also offer CopyTrading app.
How can I withdraw funds at OctaFX?
OctaFX has various deposit & withdrawal methods on their platform including Local Bank transfer in Naira. There is no extra fees on funding or withdrawals. Withdrawals via Bank transfer can generally take a few hours at OctaFX.
"Do you have experience with OctaFX? Please consider sharing your experience with a review below – good or bad – doesn't really matter as long as it's helpful to other traders!"
We only accept user reviews that add value to fellow Nigerian Traders. Unfortunately, not all reviews that you post with us will be published on the website. For your review to be approved, please share your detailed & honest experience with the broker – either positive or negative. Thank you for helping out other traders with your valueable feedback!
Important: We don't accept any payments or kickbacks from any forex broker(s) to delete or change any reviews. We welcome Forex Brokers to reply to reviews on our website & share their side of the story to keep the process honest and fair for both sides.