RoboForex Nigeria Review 2023
RoboForex is an IFSC (Belize) regulated forex and CFD broker. They are a market maker broker that offers competitive spreads on various instruments. Our honest review of RoboForex briefly explains the pros and cons for traders in Nigeria at RoboForex.
RoboForex is an International forex and CFD broker that is headquartered in Belize. They are a market maker forex broker but also offers ECN accounts with fair trading commissions. They are regulated by IFSC in Belize.
Roboforex offers a wide range of trading instruments at decent spreads. Nigerian traders can start forex and CFD trading at RoboForex with an initial minimum deposit of $10. You can choose from 5 account types and multiple different trading platforms available on various devices, including MT4 & MT5.
There can be various pros and cons of choosing Roboforex in Nigeria for different types of traders. Our honest review of RoboForex covers every aspect of the broker that can affect the trading experience in Nigeria.
RoboForex Nigeria Pros
RoboForex is regulated by IFSC in Belize
Multiple account types are available
Traders can choose between multiple trading platforms. They also have Metatrader platform available
RoboForex offers negative balance protection on all accounts
Customer support services are available 24/7
Minimum deposit as low as $10
RoboForex Nigeria Cons
RoboForex is not regulated by any Tier-1 regulatory authority like FCA, ASIC etc.
RoboForex does not offer NGN based trading account
Local phone support is not available in Nigeria
Trading fees are slightly higher
Withdrawals are not free and include commission ranging from 0.5% – 2.5%.
Local bank deposit and withdrawal not available
RoboForex – a quick look
| | |
| --- | --- |
| Broker Name | RoboForex |
| Year Founded | 2009 |
| RoboForex Website | www.roboforex.com |
| Address | 2118 Guava Street, Belama Phase 1, Belize City, Belize |
| RoboForex Minimum Deposit | $10 |
| Maximum Leverage | 1:2000 |
| Regulation | IFSC (Belize) |
| Trading Instruments | Forex, CFDs on Stocks, Indices, ETFs, Commodities, Energies, Metals |
| Trading Platforms | MetaTrader 4, MetaTrader 5, cTrader, R WebTrader, R MobileTrader, R Trader |
Regulation & Safety of Funds
Forex and CFD brokers are not yet regulated in Nigeria. Brokers offering forex and CFD trading services in Nigeria are either regulated by an offshore entity or not regulated at all.
Roboforex is regulated by International Financial Services Commission (IFSC) in Belize. IFSC is a financial market regulator that monitors the financial services offered by the brokers based in Belize. It aims to keep the capital markets efficient, transparent, and safe for traders and investors. However, the compliance requirements for IFSC are not as strict as top-tier regulators like FCA, ASIC, or FSCA. A broker regulated by IFSC cannot be considered as safe as the one regulated by FCA or ASIC.

Roboforex is a member of The Financial Commission that is an independent self-regulatory organization dedicated to the resolution of disputes in the forex market. The Financial Commission ensures quick and fair resolving of disputes to promote the trust of clients in the forex market. Due to this membership, each client at Roboforex gets the protection of up to €20,000 in case of a dispute.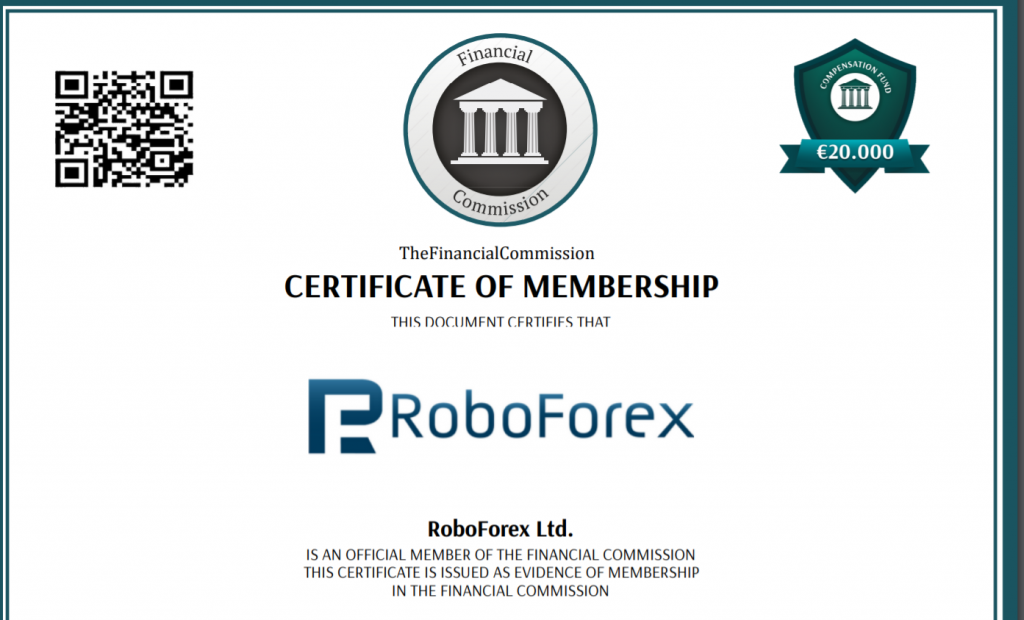 The clients' and the broker's funds are kept in a segregated bank account. Roboforex also has an ongoing Civil Liability insurance program in which clients are offered protection against errors, frauds, negligence, and other risks of financial losses.
The execution of orders at Roboforex is regularly audited by VerifyMyTrade and the results are published on their official website. We found the broker to be financially transparent and safe due to client protection measures.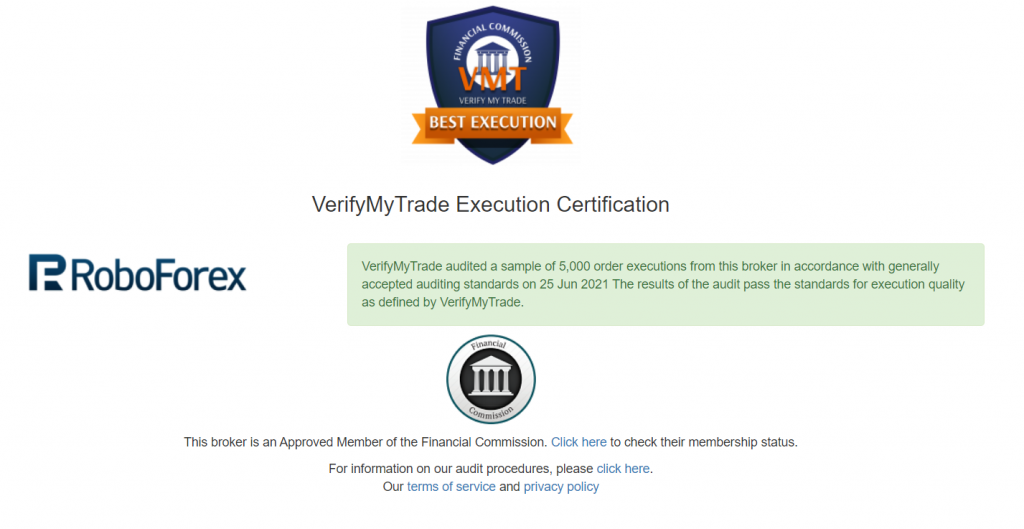 Roboforex Ltd. is only regulated by IFSC, and not by any other top-tier regulator. RoboForex does not get the best safety ratings for forex and CFD brokers in Nigeria but are considered safe to trade.
RoboForex Spreads
The fees at RoboForex can be different for each trader as it depends on the account type and instrument chosen by the client. For a detailed review of the fee structure at RoboForex, we have reviewed trading and non-trading fees separately.
Trading Fees
The trading fees at RoboForex include spread and commission. Traders can choose between 2 commission-free and 2 commission-based account types.
Trading fees with Spread only Account

At Roboforex, the Pro and ProCent account types incur spread as the only trading fees. Trades of these accounts are executed through the dealing desk at RoboForex following the market maker approach. This means that the broker independently matches the trade orders of counter requirements and can also take the other side of the trade.

The variable spreads with the spread only account start from 1.3 pips per lot. For EUR/USD, we found the average typical spreads to be 1.4 pips per lot. It must be noted that the spreads may fluctuate depending on the market conditions and liquidity in the market.

Trading fees with Spread + Commission Account
The Prime and ECN account types incur commission with very low spreads. Spreads are the same for both accounts starting from 0 pips. The commissions on both account types are as follows:

Prime Account:10$ per trade of one million units of the base currency in forex pairs. 4$ per trade of one million units of CFDs on commodities and indices. 150$ per trade of one million CFDs on US stocks.

ECN Account: 20$ per trade of one million units of the base currency in forex pairs. 5$ per trade of one million units of CFDs on commodities and indices. 200$ per trade of one million CFDs on US stocks.

The spreads with both the commission-based account types are very low. For EUR/USD we found the average typical spread to be 0.1 pips per lot.
Non-Trading Fees
There is no inactivity fee or account opening fee. The only non-trading fee is the withdrawal commission that depends on the method of transaction selected by the trader. It ranges from 0.5% to 2.5% of the withdrawal amount.
Overall, the fees at RoboForex are slightly higher than many of the regulated forex and CFD brokers in Nigeria. The prime account is the most cost-effective due to low spreads but due to commission on each trade, it may not be ideal for small volume trades. The spreads with the pro account are lesser than many brokers but are not the best among the forex and CFD brokers in Nigeria.
RoboForex Trading Platforms
RoboForex offers a good variety of trading platforms for various devices. Following are the available platforms:
MetaTrader 4
It is the oldest and most popular forex and CFD trading platform developed by MetaQuotes. Roboforex allows trading through the MT4 trading platform with all the account types for Android, iOS, Windows, Linux, and macOS devices.

MetaTrader 5
MT5 is the advanced and upgraded version of the MT4 trading platform by MetaQuotes. At RoboForex, the MT5 trading platform is available with all the account types for all types of devices.

cTrader
The cTrader trading platform is developed by Spotware Systems Company. It offers distinctive features for trading assistance and has been widely adopted by a lot of traders. cTrader platform is available with ECN and Pro account types at Roboforex.

R MobileTrader / R WebTrader:

These are available for both mobile and laptop with advance tools and other features.

R StocksTrader
It is a stock trading account and can only be used to trade with the R Trader stock trading account.
Compared to other available forex and CFD brokers in Nigeria, Roboforex is a great choice in the context of trading platforms.
RoboForex Account Types
Roboforex allows traders to choose from 5 live trading accounts and a demo account for gaining experience with virtual currency. Each account type is available to open with USD and EUR as the base currency. The broker also allows opening accounts with Gold as the base currency. NGN-based trading accounts are not available at RoboForex. All the account types can be opened with a minimum deposit of 10 $/€. Following are the available types of live trading account at RoboForex: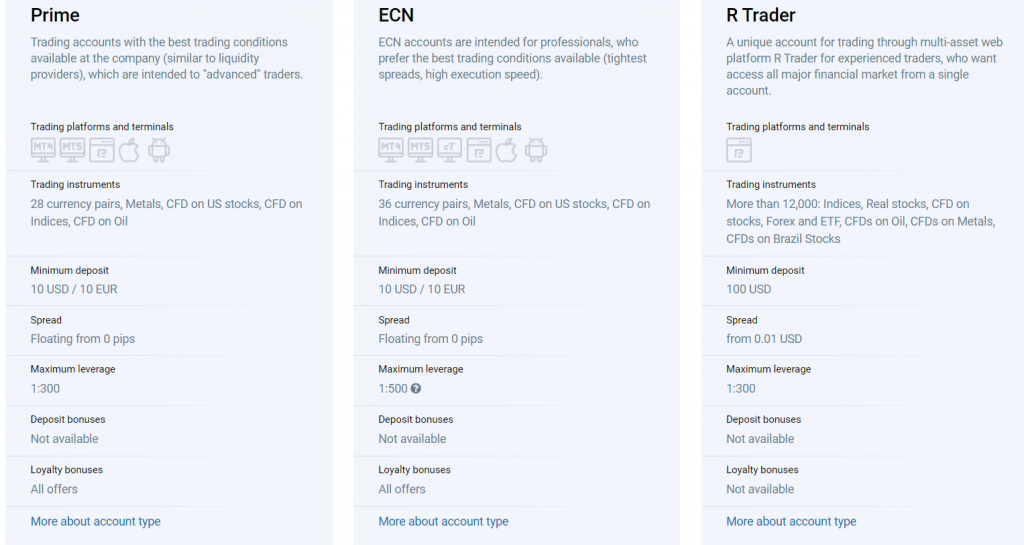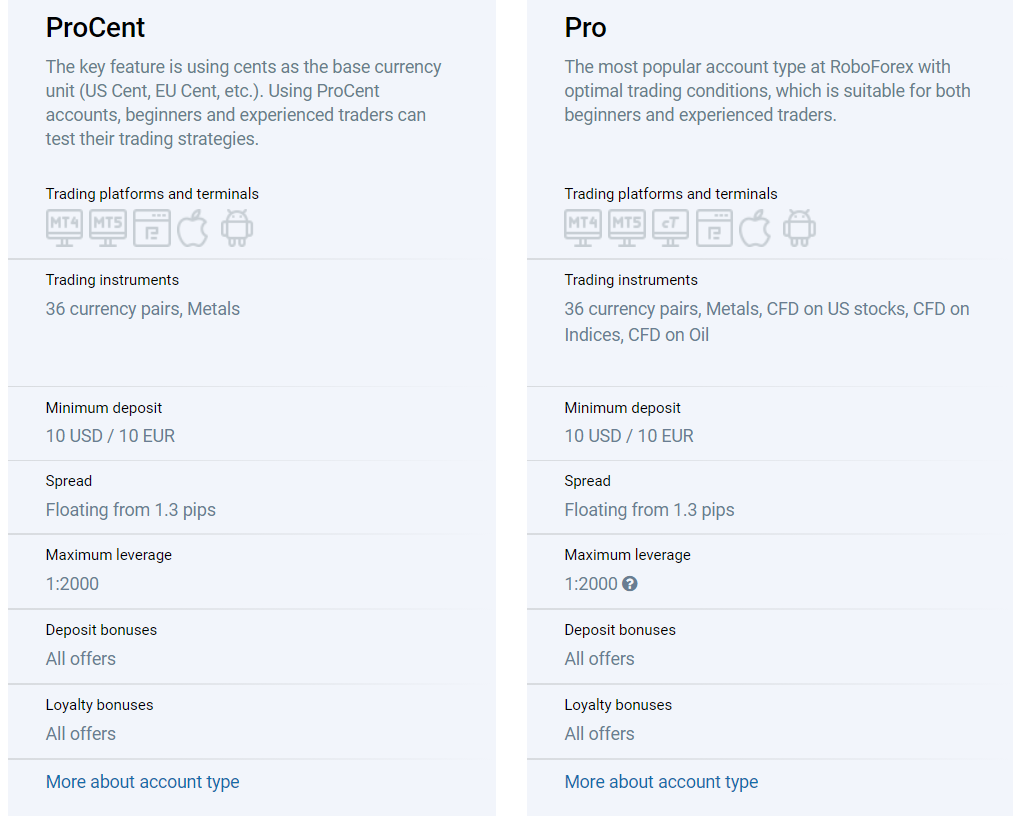 Prime Account: This is the basic account type at Roboforex that charges the commission ($10 per million trade) with very low floating spreads starting from 0.0 pips. This account allows trading on 28 currency pairs and CFDs on indices, stocks, and commodities. It is available on all the trading platforms except cTrader with a maximum leverage ratio of 1:300.

ECN Account: It is the only account type at RoboForex that follows the ECN approach for market execution. All the other account types follow the market maker approach for execution of trades. The ECN account incurs a higher commission ($20 per million trade) with similar variable spread 0.0 pips as of Prime account. Traders in Nigeria can trade with 36 currency pairs and CFDs with a maximum leverage of 1:500. The higher commission makes it less ideal for beginners or small volume traders.

Pro Account: This is a commission-free account type at RoboForex with higher spreads. The pro account gives access to trading on all the available instruments with a maximum leverage of 1:2000 & variable spread from 1.3 pips EUR/USD. It supports all types of available trading platforms.

ProCent Account: The base account of currency with the ProCent account is in cents instead of $. All the other features of this account type are similar to the Pro account type at RoboForex except for the number of available instruments. The ProCent account allows trading on 36 forex pairs with variable spread from 1.3 pips EUR/USD
& 2 metal CFDs. It is an ideal account type for beginners.

R StocksTrader Account: R Trader account type is exclusively available for stock trading. Apart from 12,000 stocks, traders can also trade with forex and CFDs on indices and commodities with this account. Traders can start with this account using minimum deposit for just ₦ 41,500. The commission and spread depend on the instrument chosen by the trader.
RoboForex offers an impressive variation in the offerings of account types. Multiple types of traders in Nigeria can open suitable accounts according to their requirements.
RoboForex Trading Instruments
Following are the trading instruments offered by RoboForex:
36 Forex Pairs: A total of 36 currency pairs can be traded at RoboForex including major minor and exotic forex pairs.

2 CFDs on Metal: RoboForex offers 2 Metal CFDs pairs namely on gold and silver. These instruments can be traded with a lot size of 100oz and 5000oz respectively.

5 CFDs on Indices: CFDs on 5 major indices of the American market can be traded at Roboforex with max leverage of 1:100.

2 CFDs on Energy: Roboforex allows trading on CFDs of Brent Crude and WTI light Crude Oil with max leverage of 1:20.

50 CFDs on Stocks: RoboForex offers CFDs on the top 50 stocks traded on the New York Stock Exchange and Dow Jones Stock Exchange. The maximum leverage is 1:20 for CFDs on stocks.
The number of trading instruments at RoboForex is decent but is slightly lower than many of the regulated brokers in Nigeria.
RoboForex Deposits & Withdrawals
RoboForex does not charge any commission for deposit through any of the available methods. The withdrawals can incur additional commission (0.5-2.5%) depending on the method selected by the client.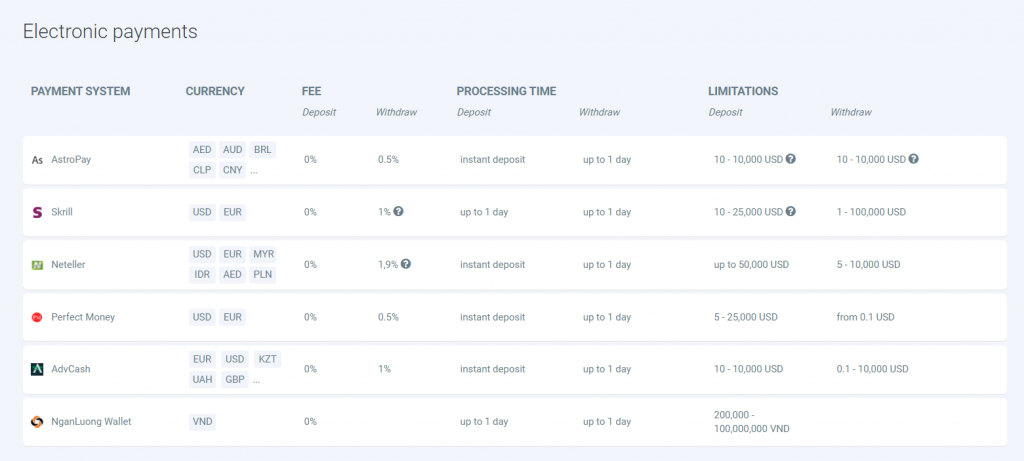 Nigerian clients can deposit and withdraw from RoboForex through credit/debit cards and e-wallets like AstroPay, Skrill, Neteller, etc. It accepts a wide range of deposit option but local bank deposit or wire transfer is not available. The withdrawal methods at RoboForex are limited and can be burdening. Many existing users in Nigeria face complications while withdrawals.
According to our review, the deposit at RoboForex is easy but the withdrawals are not as convenient as a majority of the forex and CFD brokers in Nigeria. Free withdrawals are not available and a commission is charged for each withdrawal. However, they allow free withdrawals on 2 predefined dates each month. No commission is charged if withdrawal is done on 2 dates of free funds withdrawal every month.
RoboForex Bonus
RoboForex has attractive offerings in terms of bonuses. They offer monthly cash rebates into account depending on the account type and number of lots traded. A minimum of 10 lots needs to be traded in order to receive cash rebates ranging from 5% to 15%.
The broker rewards newcomers with a welcome bonus of 30 USD. This amount cannot be withdrawn but can be used to trade and the profits can be withdrawn.
By choosing the Pro and ProCent accounts, traders can get a deposit bonus of up to 120% on the first and other following deposits.
We found RoboForex to be fairly attractive in terms of bonus offerings but certain conditions need to be met in order to receive the bonuses.
RoboForex Customer Support
The customer support executives at RoboForex can be reached out through the following methods:
Live Chat: The 24/7 live chat window at the official website of Roboforex connects instantly with the support executives. We raised multiple queries through the live chat window and received relevant but short replies from the executives.

Email: Queries can also be raised through e-mail at [email protected]. They replied to us on email with a helpful solution within 3 hours on working days.

Social Media Applications: The support executives at RoboForex can also be reached out through messaging applications like Facebook, Telegram, Whatsapp, Line, Skype, and Viber. The services through these apps are similar to the live chat window.

No Local Phone: RoboForex does not offer a local phone number for customer support in Nigeria. They provide an international number for support in various languages but international calling charges can be incurred.
The customer support services through live chat and messaging applications are available 24/7. The support executives are diligent and user-friendly. The unavailability of local phone support can be an obstacle for traders in Nigeria.
Do we recommend RoboForex?
Yes, RoboForex can be used to trade forex and CFDs in Nigeria. They offer multiple trading platforms on different account types and are fairly transparent. The customer support service is decent and trading can be started with an initial deposit of as low as $10.
It is a market maker broker that can be considered relatively safe. Although, there are other brokers in Nigeria that are regulated by many top-tier regulatory authorities.
The unavailability of local phone support, NGN-based accounts, and local bank deposits & withdrawal can be unpleasant for Nigerian traders.
RoboForex FAQs
Is RoboForex safe?
RoboForex Ltd. is regulated by IFSC Belize. But they are not regulated with any Tier-1 regulator like FCA, ASIC, so they are considered relatively less safe than other CFD brokers.
What is the minimum deposit at RoboForex?
RoboForex has a minimum deposit of $10 with their Prime, Pro Cent, Pro & ECN accounts. The deposit with R Trader account is $100, and you can trade wider range of CFD instruments with this account type.
Does RoboForex offer MT4?
Yes, RoboForex does offer Metatrader 4 trading platform. They also offer MT5 platform, cTrader, and their proprietary platform R Trader.
How can I deposit & withdraw funds at RoboForex?
RoboForex accepts wide range of funding methods including wallets like Skrill. And multiple withdrawal methods are available for clients in Nigeria. But they currently don't offer local Bank transfer deposits & withdrawals in Naira.
"Do you have experience with RoboForex? Please consider sharing your experience with a review below – good or bad – doesn't really matter as long as it's helpful to other traders!"
We only accept user reviews that add value to fellow Nigerian Traders. Unfortunately, not all reviews that you post with us will be published on the website. For your review to be approved, please share your detailed & honest experience with the broker – either positive or negative. Thank you for helping out other traders with your valueable feedback!
Important: We don't accept any payments or kickbacks from any forex broker(s) to delete or change any reviews. We welcome Forex Brokers to reply to reviews on our website & share their side of the story to keep the process honest and fair for both sides.