LiteForex Nigeria Review 2023
LiteForex a popular forex and CFD broker in Nigeria. It has offices in 6 different cities in Nigeria with local phone support. It is a CySEC regulated broker that offers attractive bonus offerings and accepts cryptocurrencies for payments. Read our comprehensive review of LiteForex for traders in Nigeria to know where they lack.
LiteForex is a Cyprus-based international forex and CFD broker that offers STP as well as ECN execution models to traders in Nigeria. The broker allows traders to choose from the MT4 and MT5 trading platforms and supports multiple transaction methods.
We liked the educational and analysis tools provided by LiteForex for a better trading experience. Although, the spreads are wider than many of the forex and CFD brokers in Nigeria. Traders in Nigeria cannot open an account with NGN as base currency but can trade with an adequate number of trading instruments.
Read our honest and detailed review of LiteForex for traders in Nigeria. We have covered all the pros and cons that can affect the trading experience of Nigerian traders.
Liteforex Pros
LiteForex has 6 offices in different cities of Nigeria.
It offers multiple local phone numbers for customer support in Nigeria.
The minimum deposit is 50$.
No deposit or withdrawal fees for any of the payment gateway.
Multiple methods for customer support services.
Deposit and withdrawals can be done through local banks in Nigeria.
Attractive bonus offerings.
LiteForex Cons
Liteforex is not regulated by any major regulatory authority except CySEC.
The spreads and Commission are high.
The commission for each capital market is different.
Customer support through the live chat window is slow.
Naira (NGN) based trading account is not available.
Liteforex – a quick look
| | |
| --- | --- |
| Broker Name | Liteforex Nigeria |
| Year Founded | 2008 |
| Liteforex Website | www.liteforex.com |
| Address | No 4 Soji Adepegba close off Allen Avenue Ikeja Lagos |
| Liteforex Minimum Deposit | $50 |
| Maximum Leverage | 1:500 |
| Regulation | CySEC, Marshall Islands |
| Trading Instruments | 55 currency pairs, 100+ CFDs on Indices, Cryptos, Metals, etc |
| Trading Platforms | MT4 & MT5 for desktop, web & mobile |
Regulation & Safety of Funds
Liteforex was launched in 2008 and has consistently offered forex and CFD trading services during multiple bearish and bullish trends since then. It has more than 25 different offices in 14 different countries but is regulated by only 1 major regulatory authority. There are 6 offices of Liteforex, each in a different city in Nigeria.
Liteforex is regulated by Cyprus Securities and Exchange Commission (CySEC) under license number 093/08. CySEC is a tier 2 regulatory authority that allows brokers to provide financial services in European countries. Liteforex offers forex and CFD trading to European clients according to compliance with MiFID regulations and also offers negative balance protection.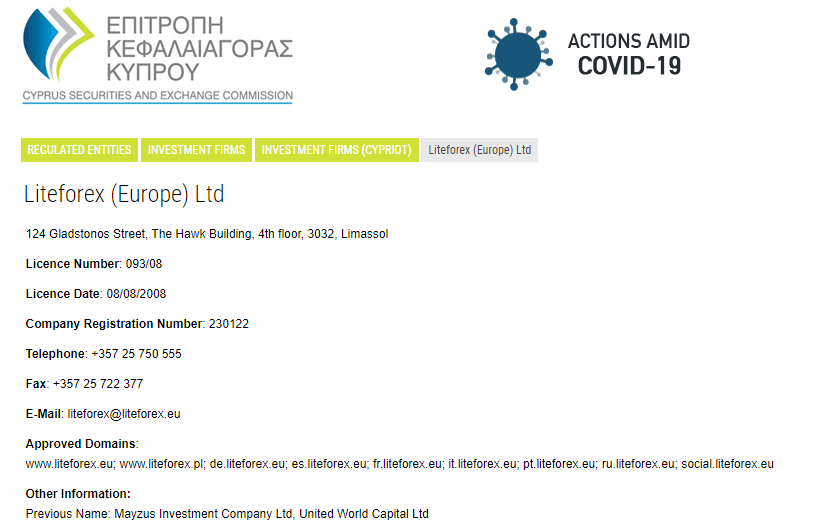 International clients including traders in Nigeria are safeguarded under the regulations of the Marshall Islands Business Corporation Act. Liteforex Investments Limited is regulated in the Marshall Islands with registration number 63888. The compliance requirements for the Marshall Islands are low hence, the protection for Nigerian traders is limited.
The compliance with MiFID regulations limits the maximum leverage to 1:30 in European countries. The traders in Nigeria or international clients can have a maximum leverage of up to 1:500.
Liteforex does not mix traders' funds with funds of its own and does not take part in any of the trades. A segregated bank account is used to separately store clients' funds and funds of the broker.
Liteforex does not have a banking license or a parent banking firm. It is a privately owned firm that uses a third-party bank to store the funds. It is not listed on any stock exchange. We also couldn't find the financial details of the broker as it does not publish its statements publicly.
Overall, the CySEC and Marshall Islands regulatory license makes it safe for traders in Nigeria. Although the unavailability of top-tier regulatory licenses like FCA, ASIC, or FSCA limits the safety ratings of Liteforex below several other regulated brokers in Nigeria.
Liteforex Spread & Fees
The fee structure at Liteforex depends upon the account type chosen by the trader. We have covered all the trading and non-trading fees that are incurred by the traders in Nigeria at Liteforex.
Trading Fees
Traders can choose between the ECN and standard STP (Classic) account type. The ECN account type involves a commission of 5$ for each side of the trade on forex majors. The commission for each instrument is different. The floating spreads with the ECN account are very low and start from 0 pips per lot. We found the average typical spread for EUR/USD with the ECN account to be 0.2 pips per lot.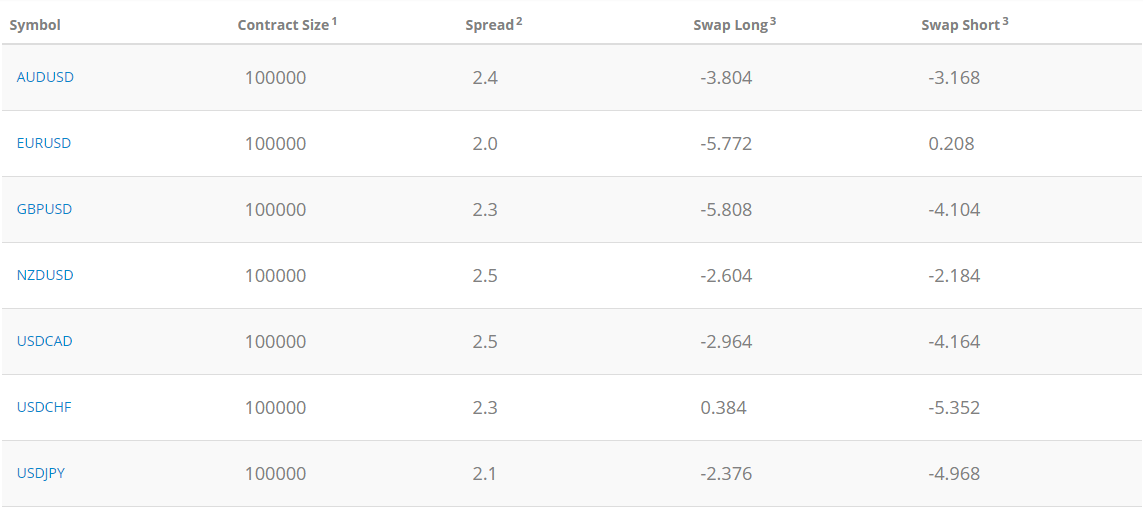 The Classic account type at Liteforex is a commission-free account with higher floating spreads. The variable spreads start from 1.8 pips per lot and the average typical spread for the EUR/USD was found to be 2 pips per lot.
Compared to other regulated forex and CFD brokers in Nigeria, the spreads, as well as commission, are marginally higher than many of the peers.
Non Trading Fees
Liteforex does not charge any account opening fees. The deposits and withdrawals are free for most of the available methods as they reimburse any commission charged for the deposits and withdrawals into the trading account.
The only non-trading fee charged at Liteforex is the inactivity fees. This fee is charged when an active trading account stays inactive for 12 months consecutively. Each inactive account is charged with 10$ per month if no trades are executed on an active account for more than a year.
Overall, the non-trading fees are decent as most of the forex and CFD brokers in Nigeria do charge an inactivity fee. The spreads on the classic account are higher than many other regulated brokers that do not charge commission. The ECN commission on commodities is lower than the peers but the ECN commission on forex majors, minors, and exotics is slightly high.
Liteforex Account Types
Liteforex offers two types of live trading accounts and a demo trading account to assist beginners in gaining experience. Both the accounts give access to all the available trading instruments at Liteforex and can only be opened with USD, EUR, and MBT as a base currency. It does not offer Naira (NGN) based trading account.
Classic Account
It is the commission-free STP account type that involves a higher floating spread. No commission is charged for any trading instrument except cryptocurrencies where the commission is 12$ per lot. Negative balance protection does not apply to the classic account type. Scalping is also not allowed with the classic account type.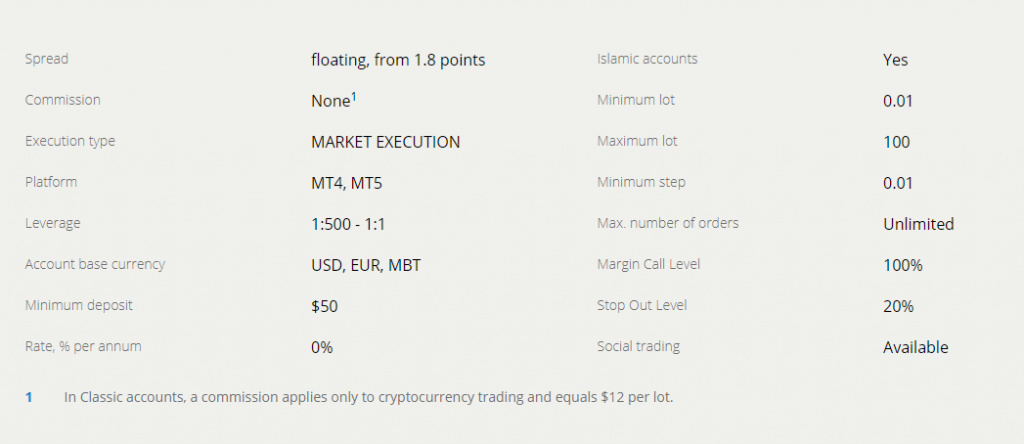 ECN Account
It is the commission-based ECN account type where the commission is different for each instrument chosen by the trader. The floating spreads are as low as 0 pips per lot. This account type offers negative balance protection which means if the account balance turns negative, it is automatically set to zero. Apart from this, traders will also receive an annual interest rate of 2.5% in their ECN trading account.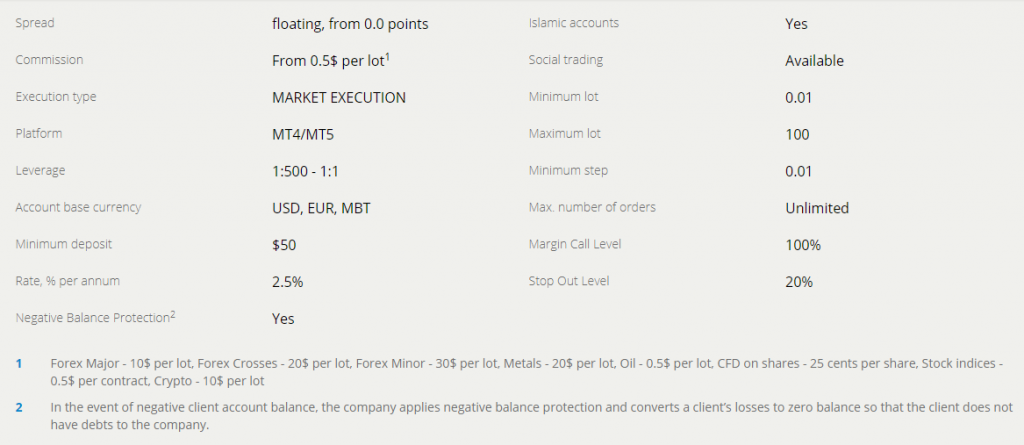 All the other features are the same for both the account types as ECN as well as Classic account can be opened with a minimum deposit of 50$. Traders can choose between MT4 and MT5 trading platforms with a maximum leverage of 1:500 for both account types.
Overall, the option to choose between spread-only and commission-based account types can suit multiple types of traders. Although, the annual interest of 2.5% and negative balance protection make the ECN account type more attractive on the comparison.
Liteforex Metatrader Platform
Liteforex offers the most popular Metatrader trading platform commonly called MT4 and MT5 trading platforms. Both the trading platforms are available for Web, Windows, macOS, Android, and iOS devices.
These trading platforms are user-friendly and customizable. It includes various charting and analysis tools along with 100+ indicators that can assist traders in making better decisions.
Liteforex also offers a mobile forex app for Android and iOS devices that can allow traders to track their favorite trading instruments and keep them up to date with the signals and news concerning the same. Trade orders cannot be executed through the Liteforex mobile forex app.
The MT4 and MT5 trading platforms are convenient and efficient as the majority of the forex traders in the world use the same for forex and CFD trading. These trading platforms are provided by almost every other forex broker in Nigeria.
Liteforex Trading Instruments
The number of trading instruments and capital markets at Liteforex is decent. Following are the details of trading instruments at Litforex:
Forex: Liteforex offers a total of 55 forex tools including 7 majors, 20 minors, and 28 exotic currency pairs. These instruments can be traded with a standard lot containing 1,00,000 units. The minimum trading volume is 0.01 lots with a maximum leverage of up to 1:500.

Metals CFDs: Traders can trade through CFDs on precious metals like Gold, Silver, Palladium, and Platinum. The spread, lot size, as well as commission are different for each of the metal crosses. The maximum available leverage ratio is 1:400 for CFDs on precious metals.

Oil CFD: Traders can trade with UK Brent and US Crude through CFDs with a lot size of 10 gallons. No Leverage is offered for the Oil CFDs
Index CFD: A total of 11 major indices are available from various economies of the world including NASDAQ 100, FTSE 100, ASX100, etc. The margin requirement starts from 1% and is different for each index.
Stock CFDs: A large number of NYSE and NASDAQ stocks are available to trade at Liteforex through CFDs with floating spreads and a leverage ratio of 1:20.
Cryptocurrency CFD: A total of 16 cryptocurrency crosses are available to trade with different floating spreads. A commission of 12$ is charged for each Crypto CFD trade on both the account types at Liteforex.
Overall, the number of capital markets and trading instruments is fairly decent when compared with other regulated brokers in Nigeria. The number of CFDs is however slightly higher than many of the peers in Nigeria.
Liteforex Deposits & Withdrawals
Liteforex accepts multiple methods for withdrawal and deposit for traders in Nigeria. Transaction through most of the methods is free of the additional cost. The time taken to process the payment can be different for each method chosen by the trader. Following methods can be used for deposits and withdrawals at Liteforex in Nigeria.
Bank Transfer: Traders in Nigeria can deposit and withdraw through local banks in Nigeria or can also transact through bank wire transfers. The local bank transfer is the most convenient method of transaction in Nigeria as all the commissions involved are compensated by Liteforex.

Card: Traders can use their credit or debit VISA/Mastercard for deposits and withdrawals without any commission.
E-Wallet: Liteforex accepts deposits and withdrawals through a wide variety of electronic wallets like Skrill, Neteller, m-pesa, etc. The minimum top-up amount should be more than 10$ for an e-wallet payment gateway.
Cryptocurrency: Liteforex allows transactions through cryptocurrencies instantly without any additional fees. Traders can transact through Bitcoin, Ethereum, Bitcoin Cash, Bitcoin Gold, Litecoin, and Monero.
Compared to other regulated forex and CFD brokers in Nigeria, we found Liteforex to be very convenient and attractive in terms of deposits and withdrawals method.
Liteforex Bonus
Liteforex has a variety of bonus offerings to promote its business and reward its clients. At the time of the review, we found 5 different bonus contests. 3 of them were for a real trading account and the prize pool for the same was up to 350,000$.


They also reward their demo traders and affiliate partners through the contest with a prize pool of up to 10,000$.
We found Liteforex to be very attractive in terms of bonus offerings as they regularly promote contests with attractive rewards. The broker also reimburses the transaction commission (if any). Upon comparison with forex brokers in Nigeria, the bonus offerings are far better than many of them.
Liteforex Customer Support
The customer support services at Liteforex are impressive as the support executives can be reached out through multiple methods in Nigeria. To review the support services at Litecoin, we tried to connect with the support executives through multiple methods.
Live Chat: Liteforex offers 24*5 live chat services general customer inquiries and financial departments. They have a different live chat window for general queries, financial department, and partnership department. We tried to resolve our query multiple times but were unable to receive a resourceful reply. We had to wait for 1-3 hours to receive a reply from the general inquiry live chat window.

Social Media Community: Liteforex has an effective and extended social media community on various platforms. Clients and potential traders can become a part of the social media community to get in touch with fellow clients and share experiences. They share successful trading strategies and stories along with the latest news on trading instruments. Traders can connect with the Liteforex community on Facebook, Instagram, Twitter, Linkedin, Telegram, and Youtube.
Email Support: Traders can raise their queries through email at [email protected]. The email support is active 24/5. The support executives generally revert the same day but can take more than 24 hours at times.
Local Phone Support: Traders in Nigeria can also connect directly through a local phone number provided by Liteforex. Liteforex has 6 different offices in Nigeria in Abuja, Lagos, Benn city, Ibadan, Port Harcourt, and Warri. Each office is active from 9 AM to 5 PM (local time) and can be reached out through multiple local phone numbers. The support staff is friendly and is ready to assist the traders during active hours.
The customer support services are also available through Skype and Telegram apart from the above-mentioned methods. There is no shortage for the number of methods to reach out to the support executives at Liteforex. Although, our experience with the support staff wasn't much helpful due to the long waiting time.
Liteforex offers local phone support in Nigeria and has 6 offices in different cities. The methods to reach out to support staff are much higher than the majority of the regulated brokers in Nigeria. Although, the margin of improvement does exist in the quality of support service provided by the broker.
Do we recommend Liteforex?
Yes, Liteforex is a CySEC regulated forex broker that accepts a wide range of payment gateways and has attractive bonus offerings. The trading fees can be slightly higher but Nigerian traders can still consider trading CFDs and currency pairs through Liteforex.
LiteForex FAQs
Is LiteForex a legit forex broker?
LiteForex is only regulated with one top-tier regulation which is Cyprus Securities and Exchange Commission (CySEC). But the traders from Nigeria are not registered under CySEC. Traders are registered under offshore regulation. But since LiteForex has one tier-2 regulation so they are moderate risk.
What is the minimum deposit for LiteForex?
With LiteForex, you can start trading using minimum deposit of $50 with their ECN and Classic accounts. The difference in these account types is based on the spreads.
How do I deposit money in LiteForex?
LiteForex accepts payment using various methods like debit cards in Nigeria, local bank transfer & Wire Transfer. You can also deposit using funds in your e-Wallets like Skrill.
"Do you have experience with LiteForex Nigeria? Please consider sharing your experience with a review below – good or bad – doesn't really matter as long as it's helpful to other traders!"
We only accept user reviews that add value to fellow Nigerian Traders. Unfortunately, not all reviews that you post with us will be published on the website. For your review to be approved, please share your detailed & honest experience with the broker – either positive or negative. Thank you for helping out other traders with your valueable feedback!
Important: We don't accept any payments or kickbacks from any forex broker(s) to delete or change any reviews. We welcome Forex Brokers to reply to reviews on our website & share their side of the story to keep the process honest and fair for both sides.